Politics
2023-February-5  13:34
Iranian FM Underlines Failure of US Sanction, Bullying Policies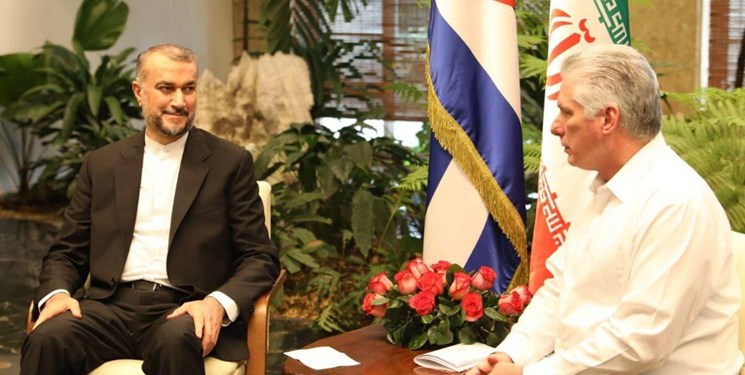 TEHRAN (FNA)- Iranian Foreign Minister Hossein Amir Abdollahian denounced US policy of bullying and sanctions against other nations, but meantime, underlined that the Washington policy is doomed to failure.
Amir Abdollahian made the remarks in a meeting with his Cuban counterpart Bruno Rodríguez Parrilla in Havana on Sunday.
"The United States' policy of [imposing] unilateral sanctions [on other countries] and bullying is doomed to fail," Iran's minister noted.
The top diplomat also condemned Washington's interventions in Cuba's internal affairs and its attempt to stoke unrest in the Central American country in July 2022. 
"The US and some [other] Western countries pursue the hybrid policy of [imposing] sanctions and intervention [in other countries' affairs] through stoking and encouraging riots in independent countries of the world," he added.
The foreign minister stated that political relations between Tehran and Havana are at the highest level, as both countries share the same views and pursue similar goals in their effort to remain independent and oppose unilateralism.
The Cuban minister, for his part, welcomed the visit by the Iranian delegation to his country, describing relations with the Islamic Republic as a priority for Cuba.
He also condemned unilateral sanctions and intervention in other countries' affairs, while extending his gratitude to Tehran for the latter's support for his country.
After his arrival in Cuba, Amir Abdollahian, who has already traveled to Nicaragua and Venezuela as part of his Central and South American tour, met with Cuba's President Miguel Díaz-Canel.
During the meeting, the two sides discussed matters of mutual interest at bilateral and international levels.
The Iranian diplomat pointed to the two countries' historic and friendly relations, reemphasizing Tehran's determination to further bolster and develop mutual cooperation.
Amir Abdollahian voiced Tehran's "categorical support" for Havana, while condemning sanctions imposed on Cuba and foreign intervention in the country's internal affairs.
Díaz-Canel, for his part, said, "Despite all the existing pressures, Cuba is determined to cooperate with friendly countries and work [with them] towards the elimination of obstacles and challenges that lie ahead."
"The US government only thinks about its own interests and does not care about others," the Cuban president continued, adding, "We have earned our political independence at a high price and will preserve it."
He noted that the ongoing developments in Latin America and elsewhere in the world are creating new opportunities for bolstering multilateralism.
Iranian officials have noted that the US has been defeated in the maximum pressure policy against Tehran, underscoring that sanctions have all failed to hamper the progress of the country.
In quitting the 2015 nuclear deal, former President Donald Trump restored sanctions on Iran as part of what he called the "maximum pressure" campaign against the country. Those sanctions are being enforced to this day by the Joe Biden administration, even though it has repeatedly acknowledged that the policy has been a mistake and a failure.
Tehran says it will not be able to trust Washington as long as President Biden continues the wrong policy of maximum pressure and sanctions practiced by Trump against Iran. 
Iranian officials say the Biden administration has yet done nothing but hollow promises to lift sanctions against Tehran. They blast the US addiction to sanctions, and slammed the POTUS for continuing his predecessor's policy on Iran.