Politics
2023-February-5  13:39
Tehran Raps IAEA's Unprofessional, Unacceptable Attitude towards Iran's Nuclear Program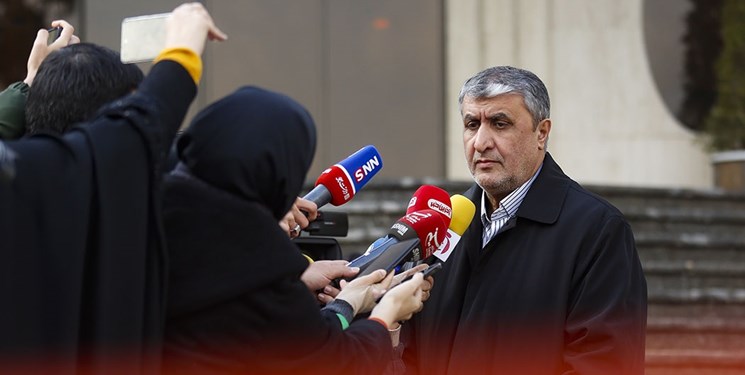 TEHRAN (FNA)- Head of the Atomic Energy Organization of Iran (AEOI) Mohammad Eslami slammed the International Atomic Energy Agency (IAEA) for publishing a wrong report over alleged undeclared change to uranium enriching equipment at Fordow nuclear site, and described the UN nuclear watchdog's approach in disclosing confidential and unverified information as unprofessional and unacceptable.
The nuclear head made the remarks in an interview with the Iranian state TV on Friday after the IAEA's Chief Rafael Grossi in a Wednesday report accused Tehran of making an undeclared change to the interconnection between the two clusters of advanced machines enriching uranium to up to 60% purity at its Fordow plant.
He said Iran objects to the political issues dictated by Grossi and has written a "letter to the agency that an inspector... who has inspected our facilities, has made a mistake and given an incorrect report".
"But yet again the agency's director general released this issue to the media," the official added.
"This is an unprofessional and unacceptable attitude and we hope that this practice will not continue... because this is not acceptable for his reputation and that of the agency," Eslami stated.
AEOI Chief: Iran's N. Sites Inspected by IAEA 2,000 Times in 2 Yearshttps://t.co/OTpJgUHpvM pic.twitter.com/jpmRJz8OZz

— Fars News Agency (@EnglishFars) February 2, 2023
Back in November, the AEOI said that Tehran has began enriching uranium to 60% purity at Fordow nuclear site in a tit-for-tat move against a resolution adopted by the IAEA Board of Governors against Iran.
The AEOI added production of 60% enriched uranium had started for the first time in Fordwo nuclear site, as the country is already enriching uranium to up to 60% purity elsewhere.
The atomic agency noted that a new generation of IR-6 centrifuges had replaced older machines in Fordwo to enable a massive ramp-up in output.
Iran has always had full cooperation with the IAEA and allowed it to visit the country's nuclear sites, but calls the nuclear agency's approach unconstructive and destructive. But Tehran has asked the IAEA to avoid politicizing the issue and focus on technical aspects in line with the organization's mandate.
Iranian officials have repeatedly called on Grossi to stop Israeli-influenced approach, and emphasized that Tehran would never surrender to the political behavior of the UN nuclear watchdog that is affected by the Zionist pressures.