Politics
2023-February-7  15:06
FM Announces Iran's Readiness to Send Emergency Aid to Syria, Turkey Following Major Quake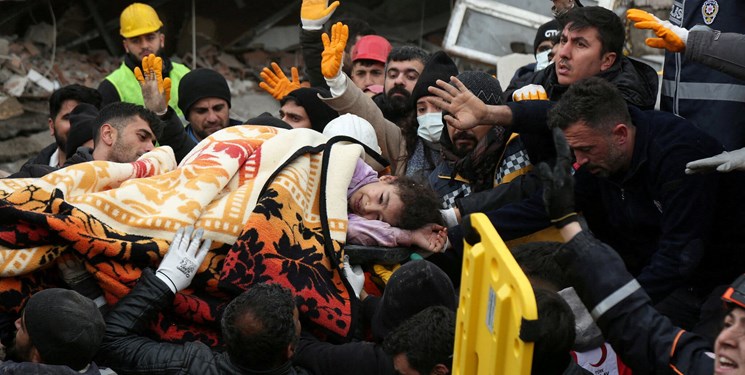 TEHRAN (FNA)- Iranian Foreign Minister Hossein Amir Abdollahian held separate phone conversations with his Syrian and Turkish counterparts in the aftermath of the powerful earthquake that killed thousands of people, and expressed Tehran's readiness to provide relief aid to the two friendly countries where search and rescue operations are underway.
On Monday, Amir Abdollahian had a telephone call with his Syrian counterpart, Faisal Mekdad, sympathizing with the Syrian government and nation.
Iran's minister also expressing his condolences and those of Iran's President Seyed Ebrahim Rayeesi to the government and nation of Syria, declaring Tehran's readiness to provide Syria with humanitarian aid.
Mekdad, for his part, thanked Iran's president and foreign minister for their expression of condolences and sympathy, describing Iran and Syria as two friendly and brotherly nations.
He also presented a report to Amir Abdollahian on the latest situation of quake-stricken regions and what his country needed.
In a separate phone conversation with Turkish Foreign Minister Mevlut Cavusoglu, Amirabdollahian stated Iran stands with the people and government of Turkey in the difficult situation.
"Based on the directives by the esteemed president, the Red Crescent Society of the Islamic Republic of Iran is ready for full cooperation with you and for delivery of the required assistance. Accordingly, tonight, a medical and rescue team of the Red Crescent Society of Iran arrives in Turkey to offer help in the process of rescuing the injured in the quake-hit areas," the Iranian foreign minister added.
"In addition to the dear people of Turkey, we are also concerned about the situation of Iranians and students living in the quake-hit areas and would like to thank your assistance in helping their situation," he noted.
Cavusoglu, for his part, thanked the Iranian president, foreign minister, government and nation for their support and sympathy.
He expressed his gratitude to Iran for voicing readiness to send IRCS medical and relief teams to Turkey.
The Turkish foreign minister also highlighted Ankara's attention to the situation of Iranian nationals and its cooperation with the Iranian embassy in Ankara and the Iranian consulate in Erzurum to assist them.
Iran's Red Crescent Society has taken immediate measures to send aid to those regions of Turkey and Syria, which have been hit by the earthquake. Iranian medical teams will be also dispatched to help people in those areas. Iran's Red Crescent Society announced it is planning to send six rescue, medical and emergency management teams to help victims of the quake.
A 7.8-magnitude earthquake has hit Turkey and Syria, killing thousands of people and trapping many others. More than 4,700 people have lost their lives in the two countries so far and thousands more have been injured.
Yunus Sezer, the head of Turkey's Disaster and Emergency Management Authority (AFAD), gave the number of dead in Turkey at 3,381, while 20,416 others were injured. Turkey's President Recep Tayyip Erdogan has declared seven days of national mourning, and Syria has appealed to the United Nations for help.
In Syria, over 1,400 people were killed. A top United Nations humanitarian official has stated damage to roads, fuel shortages and cold weather in Syria are hampering the agency's response to the earthquake.
Authorities fear the death toll from the predawn temblor, followed by a magnitude 7.6 earthquake and several aftershocks, will continue to climb as rescuers looked for survivors among tangles of metal and concrete spread across a region already suffering under Syria's 12-year war and a refugee crisis.
Freezing winter weather conditions and snowfall in the devastated region have added to the plight of many thousands of people left injured and homeless by the earthquake. Downed buildings and destroyed roads have hampered efforts to find survivors and get crucial aid into affected areas.
Governments and aid agencies have rushed to deploy personnel, funds and equipment to Turkey and Syria.