Politics
2023-February-7  15:15
Iran Calls for Removal of US-Led Sanctions on Quake-Hit Syria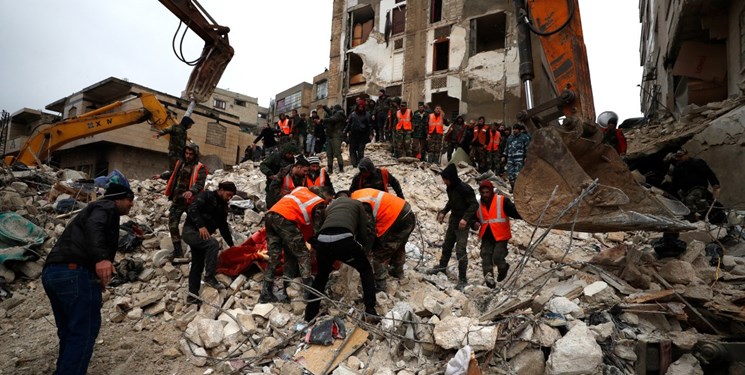 TEHRAN (FNA)- Iranian Foreign Ministry Spokesman Nasser Kana'ani urged the international community to put pressure on the US in order to lift its harsh sanctions on Syria to facilitate the delivery of humanitarian aid in the wake of a powerful earthquake that killed at least 1,500 people in the war-torn country.
Kana'ani said on Tuesday nine years of war have led to a special situation in Syria, which was hit by a 7.8-magnitude earthquake on Monday.
"The important point is that different countries must exert pressure on the US government to lift the cruel siege of Syria so that international humanitarian aid can be delivered to the quake-stricken people of Syria without any obstacles in the shortest possible time," the diplomat stated.
US forces were first sent to Syria in 2014, beginning with a contingent of special operators followed by more conventional ground troops the next year, most embedded with Kurdish fighters in the country's oil-rich Northeast. Though then-President Barack Obama maintained the deployment was focused only on combating Daesh (ISIS or ISIL) terrorists, Washington had long intervened in Syria's war against terror groups, sending and overseeing countless arms shipments to militants seeking to overthrow the government in Damascus beginning as early as 2013.
Though American involvement in the conflict slowed under the next administration, in 2019 President Donald Trump noted some US troops would remain in Syria "for the oil", openly suggesting Washington would simply "keep" the energy resources. 
Subsequent reporting in 2020 would later reveal that the Trump administration had approved a deal between a US energy firm and Kurdish authorities controlling Northeast Syria to "develop and export the region's crude oil" – a contract immediately condemned as "illegal" by Damascus. However, while that particular deal would later fall through after President Joe Biden took office, Syrian authorities have continued to accuse Washington of plundering its resources and some 900 US troops remain in the country illegally.
The US government has also imposed sweeping economic sanctions against Syria amid the Arab nation's uphill battle for reconstruction and recovery. The restrictive measures have blocked imports of essential goods, affecting the Syrian people's access to medical equipment, food, heating, gas, and electricity.
Kana'ani once again expressed his sympathy with the Turkish and Syrian governments and nations and reiterated Iran's readiness to send aid relief to the two countries.
"We hope that the international community will send humanitarian aid quickly and effectively to the two countries, especially to Syria as a country facing special conditions," the spokesperson added.
The first Iranian plane carrying humanitarian aid landed at Damascus International Airport in the early hours of Tuesday to help the quake-stricken Syrian people. The plane contained 45 tons of medical, food and sanitary aid.
Iran's Ambassador to Damascus Mehdi Sobhani, who was present at the airport, noted Tehran would send more planes carrying aid relief to Syria.
A senior Iranian Foreign Ministry official has also called on the United Nations Special Envoy for Syria Geir Otto Pedersen to speed up efforts for delivery of emergency aid to people affected by huge earthquakes in Syria.
Ali Asghar Khaji, who serves as special political affairs advisor to Iranian foreign minister, spoke to Pedersen via video conference on Tuesday to discuss the situation in Syria.
Nearly 5,000 people have been killed and tens of thousands injured after a magnitude 7.8 earthquake struck Turkey and Syria on Monday, according to officials. Thousands of buildings have collapsed in both countries.
Syria, a country already suffering the effects of the war, is facing widespread devastation from the quake. At least 1,500 fatalities and 3,600 wounded have been reported across the country, according to officials.