Politics
2023-February-8  12:52
Military Chief: Iran's Defense Systems Favored by Several Countries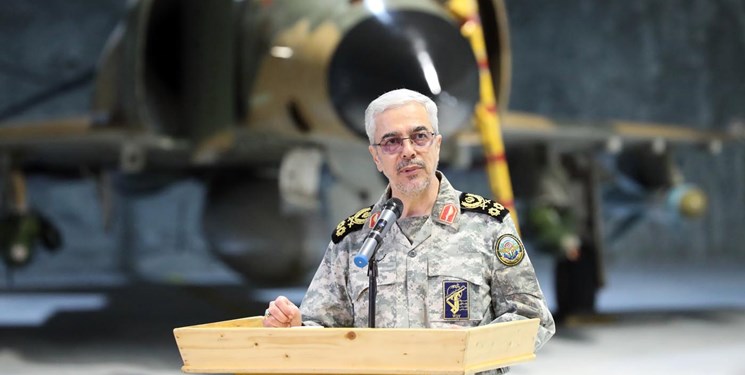 TEHRAN (FNA)- Chief of Staff of the Iranian Armed Forces Major General Mohammad Baqeri lauded the country's achievements in the defense industry sector, and said that various types of home-made military equipment have lured foreign customers in the market.
Maj. Gen. Baqeri made the remarks on Tuesday during a ceremony at Imam Khomeini's holy shrine, where military commanders and officials renewed their allegiance to the ideals of the late founder of the Islamic Republic, Imam Khomeini.
He highlighted Iran's self-reliance in manufacturing defense products, saying the homegrown Iranian military products have found many clients in the world.
"Today, the Islamic Republic's defense power and deterrence capability are so fertile that we produce more than 90 percent of our needed products, and that our defense equipment has found many requesters," the military official noted.
The top general also hailed the Iranian Armed Forces' readiness to counter threats posed by the enemy.
"Our defense deterrence does not allow the emergence of threats. But if there is a one percent chance of threat, our armed forces … stand fully vigilant with all their facilities," he continued.
"In the hybrid war with the enemy, the armed forces will stand by the officials and people with all their strength and will not allow the enemy to succeed," Major General Baqeri added.
He also referred to the rising power of the Resistance Front against Israel, saying the occupying regime only makes verbal threats.
"Today, the Zionist regime only makes verbal threats, but it knows that it does not have the power to carry them out as it is surrounded by the member countries of the Resistance Axis," the top commander added.
Military officials say the military power of Iran is strong, extraordinary and deterrent despite enemy sanctions and pressures, and hail the country's defense sector for its remarkable developments in the recent decades. They stress the Iranian Armed Forces' deterrent power dissuades the United States and Israel from implementing its threats against the country.
The Islamic Republic's military doctrine holds that the country's armed capability solely serves defensive purposes.
Iranian military experts and technicians have in recent years made substantial headway in manufacturing a broad range of indigenous equipment, making the armed forces self-sufficient in the weaponry sphere.
Iranian officials have repeatedly stressed that the country will not hesitate to boost its military capabilities, including its missile and drone power, which are entirely meant for defense, and that Iran's defense capabilities will never be subject to negotiation.