Politics
2023-February-8  12:55
Top Commander: Iranian Army Underground Bases to Host Various Fighters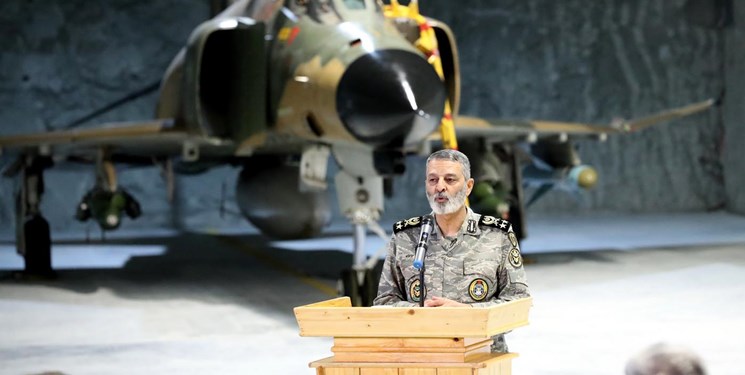 TEHRAN (FNA)- Commander of the Iranian Army Major General Abdolrahim Mousavi hailed the country's remarkable achievements in the defense fields, and said that Iranian Army's subterranean bases will be equipped with new jets in the near future.
The Iranian Army on Tuesday unveiled its first underground Air Force base, called Eagle 44 which could be used as a center for military operations of various types of fighter jets, bombers as well as unmanned aerial vehicles (UAVs).
Speaking at the ceremony, Maj. Gen. Mousavi said Eagle 44 is one of the "combined" bases of the Islamic Republic of Iran Air Force (IRIAF), meaning both manned and unmanned aircraft carry out missions from the tactical center.
He stressed that the IRIAF's "equipment has been upgraded from tactical to strategic in accordance with the threats and type of missions", adding that the new weapons and equipment installed on the fighters are state-of-the-art and projected for possible engagement with strategic targets.
The commander stated such bases are of a reserve and support to the armed forces, and "whenever the situation calls for … these bases have the ability to do great things".
"These bases have created the possibility of necessary actions and reactions that enemies cannot expect in different areas," Mousavi continued, noting, "Our bases, and of course some operational bases, will host all kinds of fighters in the future."
The Iranian Armed Forces have constructed underground bases over the recent decades. The Islamic Revolution Guards Corps (IRGC) has built the first ever underground base or city to protect its missile units. Back in late May, Tehran showed off an underground drone base where a range of advanced UAVs were housed and operated for potential combat and other missions. 
Military officials say the military power of Iran is strong, extraordinary and deterrent despite enemy sanctions and pressures, and hail the country's defense sector for its remarkable developments in the recent decades. They stress the Iranian Armed Forces' deterrent power dissuades the United States and Israel from implementing its threats against the country.
The Islamic Republic's military doctrine holds that the country's armed capability solely serves defensive purposes.
Iranian military experts and technicians have in recent years made substantial headway in manufacturing a broad range of indigenous equipment, making the armed forces self-sufficient in the weaponry sphere.
Iranian officials have repeatedly stressed that the country will not hesitate to boost its military capabilities, including its missile and drone power, which are entirely meant for defense, and that Iran's defense capabilities will never be subject to negotiation.