Politics
2023-March-6  17:45
DM: Iran in No Need of S-400 Missile Shield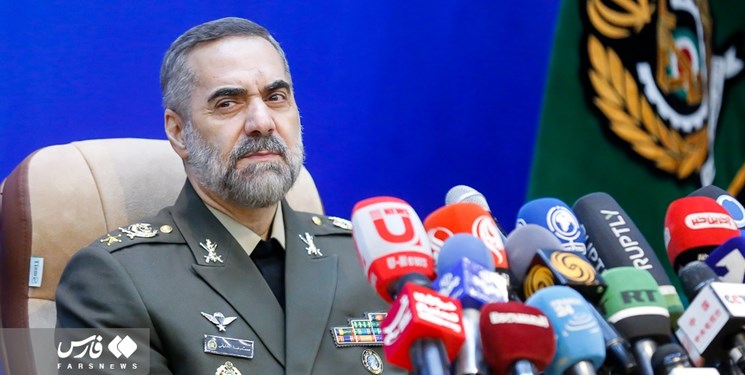 TEHRAN (FNA)- Iranian Defense Minister Brigadier General Mohammad Reza Ashtiani rejected a Bloomberg report claiming that Tehran is seeking to purchase Russian S-400 air defense system, saying that his country has attained self-sufficiency in the air defense field.
Lauding friendly relations between Iran and Russia in various fields, Brigadier General Ashtiani dismissed any plan for Tehran to obtain S-400 missile system from Moscow.
"Tehran has reached a high-level of technology and gained self-sufficiency in the air defense industry," the Iranian minister emphasized, speaking at a press conference on Monday.
"Should the need arise to buy this [system], we will do so, but we don't currently need," he stressed, commenting on whether Iran could receive the S-400 from Russia.
He stated that his country had manufactured such air defense systems that "are unique in the world" and "can meet Iran's needs", adding that several states aspire to have Bavar-373 air defense system.
Ashtiani hailed Iran's progress in the Unmanned aerial vehicle (UAV) industry, and said that several countries are keen to purchase Iranian-made drones.
"Everybody acknowledges that Iran's drone power is unparalleled. Therefore, we help some countries to strengthen their defense power with our own considerations," the military official continued.
Praising the country's achievements in developing reconnaissance, combat and stealth drones, Brig. Gen. Ashtiani disclosed that Iranian experts have applied artificial intelligence to the manned fighter jets that carry out solo sorties or fly in squadrons.
On purchasing Sukhoi Su-35 warplanes, Iran's defense minister said that Tehran cooperates with other countries in defense field, and will buy military equipment, "if needed".
He added that delivery of the Sukhoi fighters has been raised since the past and "nothing new has happened in this regard".
Senior Commander: Iran's Bavar 373 Missile Defense System Rivals Russia's S-400https://t.co/qH7jyYlmMm pic.twitter.com/uG2DnwlIGM

— Fars News Agency (@EnglishFars) February 14, 2023
Iran unveiled the state-of-the-art surface-to-air Bavar 373 (Belief-373) air defense system, designed and manufactured by the country's experts, in August 2019.
Iranina military officials say the Bavar 373 air defense system is one of the most important defense achievements of the country after the victory of the Islamic Revolution. They believe Bavar-373 missile system is much better than the US Patriot system and its Russian counterpart S-300.
In November 2022, Iran's Defense Ministry showcased the upgraded version of the domestically-designed and manufactured Bavar-373.
It is a mobile missile defense system designed to intercept and destroy incoming hostile targets. The system employs missiles that have a maximum range of 300 kilometers. The system is capable of simultaneously detecting up to 300 targets, tracking 60 targets at once and engaging six targets at a time.
According to a report in the long-range test of the Bavar-373 system, a stationary target was detected at a range of more than 450 kilometers by the optimized radar of the Bavar 373 system, and it was tracked at a range of about 405 kilometers and was hit and destroyed at a range of over 300 kilometers.
The Bavar-373 system detection radar was said to have increased from 350 to 450 kilometers, and the range of its engagement range has risen from 260 to 400 kilometers, the report added.
It also noted that the missile range has gone from 200 to 300 kilometers, and its engagement altitude has increased from 27 to 32 kilometers.
Official: 90 Countries Seeking to Purchase Iranian Droneshttps://t.co/9P6zCkqmcJ pic.twitter.com/0rbpwLkFz3

— Fars News Agency (@EnglishFars) February 9, 2023
The Islamic Republic's military doctrine holds that the country's armed capability solely serves defensive purposes.
Military officials say the military power of Iran is strong, extraordinary and deterrent despite enemy sanctions and pressures, and hail the country's defense sector for its remarkable developments in the recent decades. They stress the Iranian Armed Forces' deterrent power dissuades the United States and Israel from implementing its threats against the country.
Iranian military experts and technicians have in recent years made substantial headway in manufacturing a broad range of indigenous equipment, making the armed forces self-sufficient in the weaponry sphere.
Iranian officials have repeatedly stressed that the country will not hesitate to boost its military capabilities, including its missile and drone power, which are entirely meant for defense, and that Iran's defense capabilities will never be subject to negotiation.