Politics
2023-March-7  16:05
Iran Starts Mass Production of High-Velocity Ballistic Missile Able to Smash Moving Naval Targets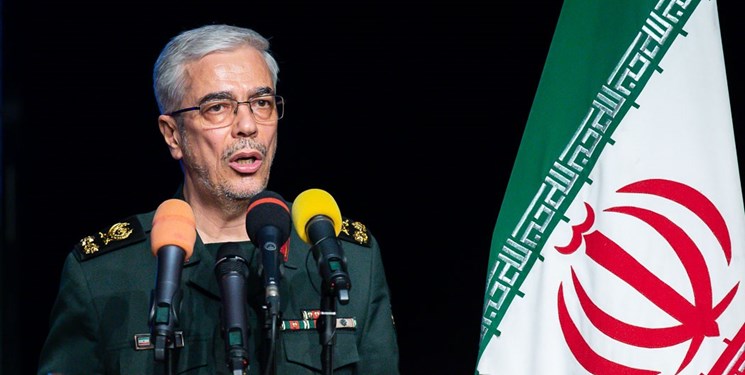 TEHRAN (FNA)- Chief of Staff of the Iranian Armed Forces Major General Mohammad Baqeri praised the country's astonishing achievements in the defense industry sector, and said that the country has manufactured a ballistic missile which enjoys advanced technologies to pound moving marine targets at the speed of Mach 8.
Speaking to reporters on Monday, Maj. Gen. Baqeri said Iran is now capable of producing ballistic missiles destroying moving marine targets at high speeds.
"This missile has been successfully tested and its mass production has started," he added.
"After production of this missile, Iran will be among the three countries possessing the [technical] know-how to make such missiles," the top general stated.
He noted that the new ballistic missile can hit its target with a speed of Mach 8 and with a final range of 1,500 kilometers and is capable of delivering precision strikes.
"From now on, invading airplane carriers and [foreign] fleet will not be safe at a distance of 1,500 kilometers of our shores and this is an achievement reached by our elite youths," Baqeri continued.
Back in November, Islamic Revolution Guards Corps (IRGC) Aerospace Commander Brigadier General Amir Ali Hajizadeh said that the country has manufactured a hypersonic ballistic missile which enjoys advanced technologies to penetrate all types of advanced air defense systems.
The top commander stated that the missile is very fast and able to maneuver both in the space and outer space.
"The hypersonic missile can travel at Mach 12-13 and is capable of exoatmospheric maneuvering," he remarked, adding the projectile is outfitted with an engine that starts within 500 kilometers (310 miles) or a shorter distance of the target's location to enable its maneuverability.
The Islamic Republic's military doctrine holds that the country's armed capability solely serves defensive purposes.
Military comanders say Iran stands among the world's top states manufacturing drones and precision-striking missiles, and add different types of domestically-built military equipment are favored by world powers.
Iranian military experts and technicians have in recent years made substantial headway in manufacturing a broad range of indigenous equipment, making the armed forces self-sufficient in the weaponry sphere.
Iranian officials have repeatedly stressed that the country will not hesitate to boost its military capabilities, including its missile and drone power, which are entirely meant for defense, and that Iran's defense capabilities will never be subject to negotiation.