Politics
2023-March-9  15:33
Multi-Purpose Oceangoing Warship Joins IRGC Navy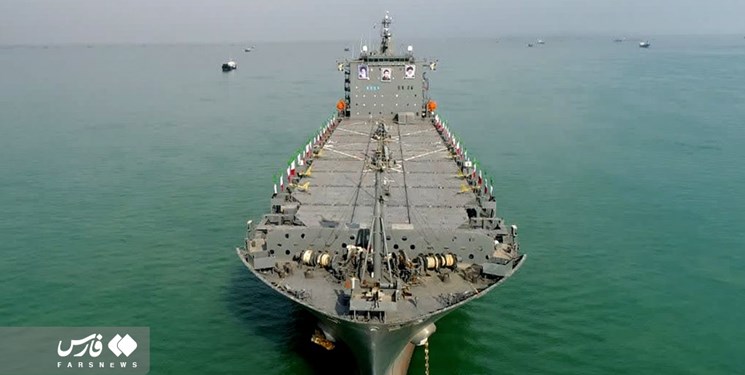 TEHRAN (FNA)- An oceangoing warship, known as mobile naval city capable of carrying helicopters and drones, joined the fleet of the Islamic Revolution Guards Corps (IRGC) Navy at a ceremony attended by high-ranking military officials in Southern Iran.
The domestically-developed ship, named Martyr Mahdavi, joined the IRGC Navy along with 99 new vessels in different classes after being unveiled in the Southern port city of Bandar Abbas on Thursday.
IRGC Chief Major General Hossein Salaami and Commander of the IRGC Navy Rear Admiral Alireza Tangsiri were among the senior military officials taking part at the ceremony.
Martyr Mahdavi carrier provides the IRGC a large and floating base from which to run the small and fast boats, helicopters and various types of unmanned aerial vehicles (UAV). The ship can cruise in faraway waters and ensure the security of the Iranian trade vessels in high seas.
The oceangoing warship is 240 meters in length and 32 meters in width and weighs 14,000 tons and has a load capacity of 41,000 tons. It has been equipped with a 3-dimensional phased array radar, sea-to-sea and sea-to-air missiles, advanced communication systems for electronic warfare, and cruise missiles with a range of 700km. It is capable of carrying helicopters and drones.
Speaking at the ceremony, Rear Admiral Tangsiri said the Martyr Mahdavi warship is a heavy, multi-purpose and long-range vessel capable of carrying and operating all kinds of helicopters, drones, and high-speed missile launchers, as well as missile, defense and radar systems.
"The ship is like a mobile maritime city ready to carry out ocean missions … to create sustainable security of sea communication lines and provide aid to the commercial and fishing fleets of the Islamic Republic and regional countries," he added.
The IRGC's Navy has also received new domestically-designed vessels that have missile launchers mounted on them. The vessels that joined the navy fleet were upgraded versions of Ashura and Tareq classes.
They can launch rockets with a range of between 100 and 180 kilometers.  
The vessels enjoy high maneuverability and have been designed to be capable of carrying out missions in different weather conditions.
"By the joining of the specialized naval equipment … and the conversion of Ashura- and Tareq-calss rocket-launching vessels into the missile-launching ones with a minimum range of 10 and maximum of more than 180 kilometers, the IRGC Navy has managed to take an important and effective step in upgrading the level of its naval combat power. It is somehow unprecedented in the world," Tangsiri stated.
The IRGC navy chief  also noted that the elite military force has converted rocket-launching vessels into missile-launching ones in an "unprecedented" move in the world.
Iranian Navy Forms Drone Fleethttps://t.co/vVFC1FmleA pic.twitter.com/VjHyQNZg7d

— Fars News Agency (@EnglishFars) November 23, 2022
Back in September, the IRGC unveiled a domestically-built patrol combat vessel named after the country's top anti-terror commander Lieutenant General Qassem Soleimani.
The hull of Martyr Soleimani combat patrol vessel is equipped with radar-evading stealth technology, meaning that it has a very low level of radar cross-section.
The vessel, thanks to its shape, can undertake all kinds of operations in open seas, and is capable of cruising in adverse weather conditions.
Martyr Soleimani military watercraft also has a much higher maneuverability and a much smaller turning radius compared to vessels of the same size, enabling it to implement various offensive and defensive missions.
The vessel runs on four indigenous high-power engines, which give it the chance to be quickly dispatched to the designated zone, and go on long-haul maritime missions without the need for coastal support as it defends the interests of the Islamic Republic in high seas.
Moreover, it can carry helicopters, and is equipped with large helipads intended for use by military choppers as well as vertical take-off and landing unmanned aerial vehicles.
Martyr Soleimani vessel, given its combined combat features, can also carry and launch various types of fast attack craft during operations in open seas.
The watercraft is equipped with the most sophisticated reconnaissance, surveillance, telecommunications and electronic warfare systems as well as radars. It can identify and monitor designated targets at sea level, below sea level and in the air.
Among other features of the vessel is the use of homegrown self-protection systems, modern communication and telecommunication equipment, various types of encoders and data links.
The Islamic Republic's military doctrine holds that the country's armed capability solely serves defensive purposes.
Iranian military experts and technicians have in recent years made substantial headway in manufacturing a broad range of indigenous equipment, making the armed forces self-sufficient in the weaponry sphere.
Iranian officials have repeatedly stressed that the country will not hesitate to boost its military capabilities, including its missile and drone power, which are entirely meant for defense, and that Iran's defense capabilities will never be subject to negotiation.