Politics
2023-March-9  15:58
IRGC Chief: Enemy Pressure Makes Iranian Nation Stronger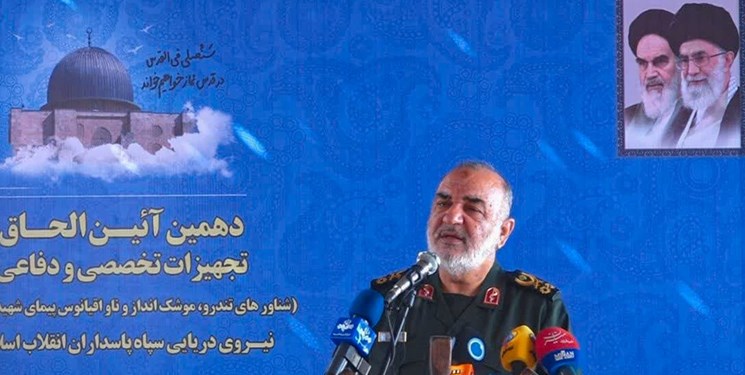 TEHRAN (FNA)- Commander of the Islamic Revolution Guards Corps (IRGC) Major General Hossein Salami lashed out at the West for meddling in Iran's domestic affairs, and said that the more pressure foes exert on the Iranian people, the stronger the nation emerges against them.
Major General Salami made the remarks during a ceremony in the Southern port city of Bandar Abbas on Thursday.
"Whenever the enemy acts forcefully against the Islamic Revolution, Iranians appear stronger against it," he stated.
"The enemy has come to the scene with all its strength, but the more it acts, the less it gains and the farther it gets from its so-called objectives," the top commander added.
Some fugitives portray themselves as benefactors and saviors of the nation while they demand the enemies intensify the embargo and isolation targeting Iran so that medicine and food do not reach the Iranian people, Salami stressed.
He stressed the enemies tighten sanctions, including those on medicines and basic supplies, on the Iranian nation upon the demands of those who have fled their homeland and sought refuge in the US and Europe.
"In the Iranians' mentality, this kind of behavior is disgusting and shameful," the military official continued.
READ MORE: Deputy FM Says US Sanctions Murdering Hundreds of Iranian Patients
Tehran and certain Western nations have been engaged in a diplomatic row over their meddlesome stance on recent unrest Iran and Tehran's alleged role in the war between Russia and Ukraine.
Protests erupted in several cities across Iran over the death of Mahsa Amini who fainted at a police station in mid-September and days later was pronounced dead at a hospital. The demonstrations soon turned violent.
An official report by Iran's Legal Medicine Organization announced that Amini's controversial death was caused by an illness rather than alleged blows to the head or other vital body organs.
Iranian officials blame Western countries for orchestrating the riots to destabilize the country.
The unrest has claimed the lives of dozens of people and security forces, while also allowing acts of terror and sabotage across the country. Iran's Interior Ministry has confirmed the enemy waged a hybrid war against the country to weaken national solidarity and hinder the country's progress, stressing that some 200 people lost their lives in the riots sparked by separatist and terrorist groups.
The US, the UK and the European Union (EU) have imposed a slew of sanctions against Iranian individuals and legal entities since the September death in police custody of an Iranian woman. Iran has returned the adversarial measures and meddlesome statements with sanctions against European, American and British officials and institutions.