Politics
2023-March-17  17:18
Commander: IRGC to Firmly Respond to Any Enemy Aggressive Move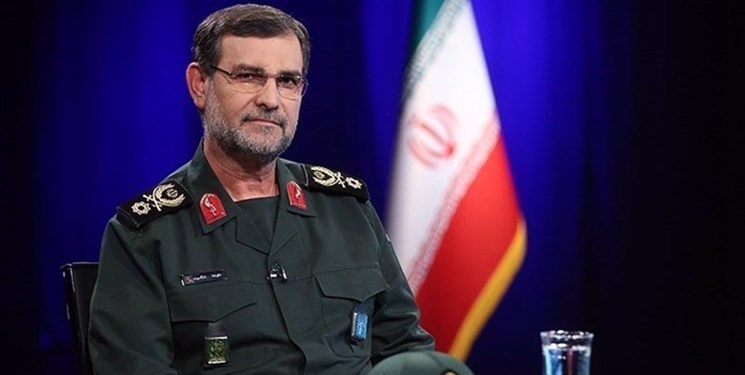 TEHRAN (FNA)- Commander of the Islamic Revolution Guards Corps Navy Rear Admiral Alireza Tangsiri warned of the IRGC's firm response to any offensive move by the enemies, stressing that the Islamic Republic is more powerful than any other time.
"The Martyr Mahdavi combat support vessel has been equipped with cruise missiles with a range of 300 to 750 kilometers, Sepehr-7 vertical launch drones with a flight duration of 8 hours and a range of 200 kilometers, and kamikaze drones with a range of 1,300 kilometers, and it can also carry 5 helicopters," Rear Tangsiri said in a televised program on Monday.
Tangsiri's remarks came a few days after the ocean-going Martyr Mahdavi warship joined the IRGC Navy's fleet.
The 2,100-ton vessel, which has a length of 240 meters and a width of 27 meters, is equipped with a 3D phased-array radar and highly advanced electronic warfare telecommunication systems.
Elsewhere in his comments, the commander said the IRGC Navy's Tareq-class boats have been outfitted with missiles that have a range of 180 kilometers, adding that the boats can fire their missiles while sailing at a speed of 60 knots.
Ashura- and Zolfaghar-class boats have been equipped with Kowasr-200 and Navab missiles, respectively, he noted. Navab and Sayyad-3 missiles have been installed on the Shahid Soleimani warship.
"We have unmanned vessels that are equipped with artificial intelligence and are capable of guiding other unmanned vessels and attacking with them," he added.
Iran's naval force has in recent years made great achievements in manufacturing its equipment and expanding its presence in international waters and high seas.