Politics
2023-March-20  16:09
Iranian FM Announces Readiness to Hold Meeting with Saudi Counterpart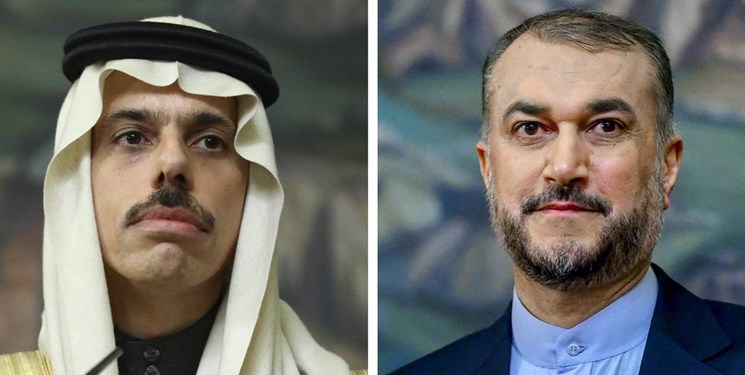 TEHRAN (FNA)- Iranian Foreign Minister Hossein Amir Abdollahian said he will meet his Saudi counterpart Prince Faisal bin Farhan "in the near future" following the recent detente, adding that Tehran has proposed to Riyadh three locations for a meeting between the two top diplomats.
"So far, we have agreed [with Saudi Arabia] that technical delegations from both sides will visit embassies and consulates general and make preparation for their practical reopening," Amir Abdollahian said at a press conference in Tehran on Sunday.
He added that the promotion of peace in the region has been among the main issues that Iran and Saudi Arabia underlined in their recently-signed agreement to restore diplomatic relations after seven years of estrangement.
Tehran and Riyadh have agreed to restore normal relations and exchanged messages through Switzerland during the last 10 days, the minister explained, stating that Iran has expressed its readiness to hold a meeting of foreign ministers and "proposed three locations for this meeting".
The top diplomat noted that the two sides had held five rounds of security talks in the Iraqi capital Baghdad and finally agreed with an initiative made by Chinese President Xi Jinping during Iranian President Seyed Ebrahim Rayeesi's visit to Beijing last month.
Asked about the settlement of the crisis in Yemen in light of détente between Iran and Saudi Arabia, the senior official stressed that Tehran believes that the Yemeni issue relates only to the people of Yemen.
After several days of intensive negotiations hosted by China, Iran and Saudi Arabia finally clinched a deal on March 10 to restore diplomatic relations and re-open embassies and missions within two months.
According to a joint statement, Tehran and Riyadh stressed the need to respect each other's national sovereignty and refrain from interfering in the internal affairs of one another.
Iran, Saudi Arabia and China also expressed their firm determination to make their utmost efforts to promote regional and international peace, security and stability.
During his Sunday presser, the foreign minister said Iran welcomes the expansion of relations with neighboring and regional countries.
He added that Tehran has promoted its political relations with the United Arab Emirates and Kuwait to the ambassadorial-level.
Back in September 2022, the UAE reinstated its ambassador to Iran, more than six years after ties between the two sides were downgraded following the storming of the Saudi Embassy in Tehran by protesters over Ruyadh's execution of prominent Shia cleric, Sheikh Baqir Al-Nimr.
Pointing to some security issues between Iran and the UAE, Amir Abdollahian pointed out that during his talks with Emirati officials in Abu Dhabi last May, he expressed the Islamic Republic's security concerns, including any threat from the Israeli regime using the UAE's soil.
He also noted that Oman's Sultan Haitham bin Tarik came up with an initiative to restore relations between Iran and Bahrain during his visit to Manama in October, adding that Tehran and Manama agreed that their technical delegations would visit their embassies in a preliminary agreement reached some two months ago.
The top Iranian diplomat expressed hope that Tehran and Manama would remove obstacles in the path of their relations and take proper steps to improve ties.