Politics
2023-March-20  16:13
FM: Iran Not to Put All Eggs in Nuclear Deal Basket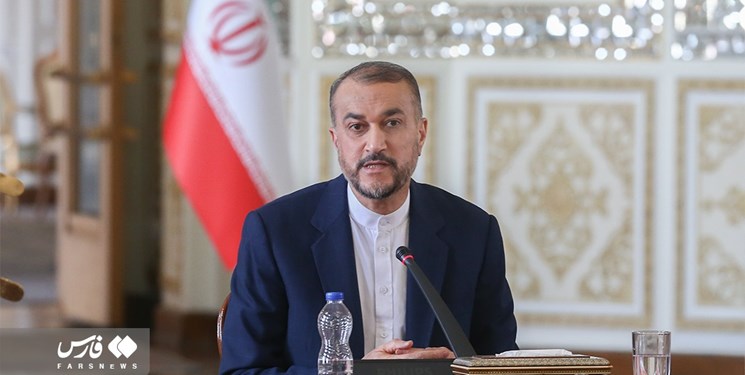 TEHRAN (FNA)- Iranian Foreign Minister Hossein Amir Abdollahian underlined once again that his country does not see the revival of the 2015 nuclear agreement as an indispensable move and plans to make use of every possible opportunity to protect Iran's national interests.
Amir Abdollahian made the remarks at a press conference with journalists in Tehran on Sunday.
The minister stated that an initiative is on the table and that the administration of President Seyed Ebrahim Rayeesi is hopeful that it will notify the Iranian people of the final outcome in the coming weeks.
The Iranian administration has not put all its eggs in the JCPOA basket "but has used and will use all chances to safeguard [Iran's] national interests", he stressed.
The top diplomat pointed to a roadmap agreed on earlier this month by the Atomic Energy Organization of Iran (AEOI) and the International Atomic Energy Agency (IAEA), noting that the two sides are on the right path of joint cooperation and are proceeding with visits and direct technical talks.
He added that the bilateral cooperation will have positive impacts on talks to save the landmark accord, formally known as the Joint Comprehensive Plan of Action (JCPOA).
READ MORE: Supreme Leader Says Iran Not Relying on Others
Iran stresses it has not quit the negotiating table with the world powers, but will not wait for the United States to return to its commitments under the 2015 agreement. Iranian officials stress Tehran has maintained its constructive aproach towards a good, strong and lasting agreement on the revival of the accord and arriving at a deal requires the US pragmatic attitude.
Tehran says it will not be able to trust Washington as long as President Joe Biden continues the wrong policy of maximum pressure and sanctions practiced by Donald Trump against Iran. Iranian officials say the Biden administration has yet done nothing but hollow promises to lift sanctions against Tehran. They blast the US addiction to sanctions, and slammed the POTUS for continuing his predecessor's policy on Iran.
In quitting the agreement, Trump restored sanctions on Iran as part of what he called the "maximum pressure" campaign against the country. Those sanctions are being enforced to this day by the Biden administration, even though it has repeatedly acknowledged that the policy has been a mistake and a failure.
Iranian officials say the ball is in the US' court, and the Biden administration should assure Tehran that it will not repeat Trump's past mistakes.
Diplomats have also criticized Washington for raising excessive demands from Tehran during the nuclear talks, and blocking efforts to reach an agreement on the JCPOA. They emphasized that the US should lift unilateral sanctions, and assure Iran that it will not repeat its past mistakes.