Politics
2023-March-22  12:57
Military Chief Warns Devestating Action against Enemies' Threats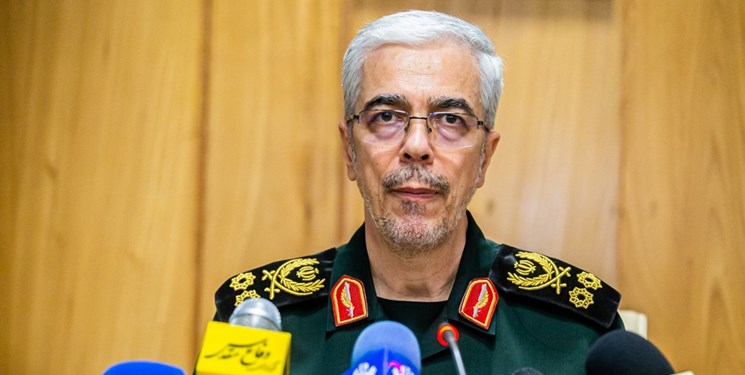 TEHRAN (FNA)- Chief of Staff of the Iranian Armed Forces Major General Mohammad Baqeri underlined the country's full preparedness to fight off any enemy plot against Tehran, and said that the Iranian Armed Forces are constantly monitoring enemy actions in the region.
Major General Baqeri made the remarks in his New Year's message on Tuesday.
He stated that the lunar year 1401 passed with all its ups and downs and became history, with precious experiences for the country.
"It was a year in which the global oppression resorting to most complicated campaign methods, sent all it had to the scene of a combination war against our ideals, religious values and the Iranian nation's national and revolutionary values," the military official noted.
"But as the Commander in Chief of the Armed Forces said, what made that war face defeat was the miscalculation of the enemy in understanding the wise and highly alert  Islamic Iranian nation," the top general added.
He pointed out that the last fall season events, despite their material and spiritual losses, and the martyrs of the defenders of security in the Islamic Revolutionary Guard Corps (IRGC), Basij mobilization force, and disciplinary police forces, turned into a point of strength since the enemy had counted on team-making in Iran, but the great Iranian nation poured into the streets and disrupted the entire calculations of them, in Bahman 22nd rallies, which were the peak of their presence, and further strengthened the system's pillars.
The chief of staff of the armed forces underscored that Iran will nip the plots in the bud as the country's military forces are ready than ever before for safeguarding the Islamic flag even by sacrificing lives in Jihadi moves.
Military officials have warned that any mistake by the US and Israel will be met with Tehran's firm response. Iranian officials say Washington and Tel Aviv are well aware of Tehran's capabilities and capacities, and caution that Tehran does not compromise or joke with its national security. They stress the Iranian Armed Forces' deterrent power dissuades the United States and Israel from implementing its threats against the country.
Tehran has repeatedly cautioned that any plan aimed at increasing US presence in the Middle East will only foment insecurity and instability and spread terrorism, urging the neighboring countries to be extremely vigilant about any US-Israeli plan that clearly aims to disturb the stability and order of the region.
Iranian officials have repeatedly underlined the necessity for the settlement of the crises and problems in the region through collective cooperation among the regional states, and underscored that the presence of foreigners is harmful.
Iran says Israel is the primary source of instability in West Asia, and the United States remains responsible for the instability in the region as long as its wrong and crisis-making policies are not rectified.