Politics
2023-March-24  15:14
Spokesman Calls on Europe to Stop Inverting Facts About Iran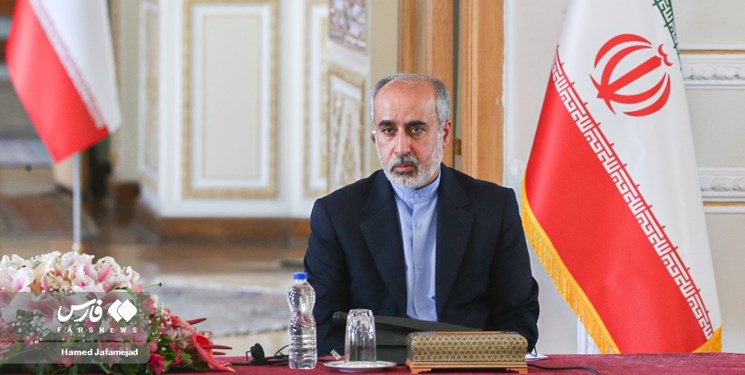 TEHRAN (FNA)- Iranian Foreign Ministry Spokesman Nasser Kana'ani blasted the West's double-standards towards unrests in his country and in some European states, and urged them to stop overturning realities about Iran.
Referring to the contradictory behaviors of certain Western countries, including their reactions to the recent unrests in Iran, Kana'ani tweeted, "There are clashes between the protesters in the streets of many European cities and the police forces every day."
He has also referred to Norway's proposed dialogue with Tehran and a peaceful demonstration along the 71km long Vali-e-Asr Street.
"But in their media, they are still reflecting a few months' ago protests and unrests in Iran; are they hallucinating, or telling lies to their audiences?" the spokesperson asked.
Protests erupted in several cities across Iran over the death of Mahsa Amini who fainted at a police station in mid-September and days later was pronounced dead at a hospital. The demonstrations soon turned violent.
An official report by Iran's Legal Medicine Organization announced that Amini's controversial death was caused by an illness rather than alleged blows to the head or other vital body organs.
Iranian officials blame Western countries for orchestrating the riots to destabilize the country.
The unrest has claimed the lives of dozens of people and security forces, while also allowing acts of terror and sabotage across the country. Iran's Interior Ministry has confirmed the enemy waged a hybrid war against the country to weaken national solidarity and hinder the country's progress, stressing that some 200 people lost their lives in the riots sparked by separatist and terrorist groups.
The US, the UK and the European Union (EU) have imposed a slew of sanctions against Iranian individuals and legal entities since the September death in police custody of an Iranian woman. Iran has returned the adversarial measures and meddlesome statements with sanctions against European, American and British officials and institutions.
Iran blasts the blatant violations of human rights in the US and Europe, stressing for the US, human rights is merely a tool for exerting political pressure on independent states to advance their foreign policy objectives. Officials in Tehran call on the international community to hold the US accountable for its crimes. They mocked the US claim over supporting Iranian women and girls amid harsh sanctions which have disrupted the ordinary lives of the people.
Tehran has also denounces the disturbing human rights situation in the European countries, and note the West does not have the authority to be the flag-bearer in this field.
Iranian officials have numerously urged the international organizations to condemn police brutality against women in the United States and European states, instead of expressing concern over human rights in other countries.