Politics
2023-March-24  15:31
Tehran Calls on Paris to Engage in Dialogue with Anti-Macron Protesters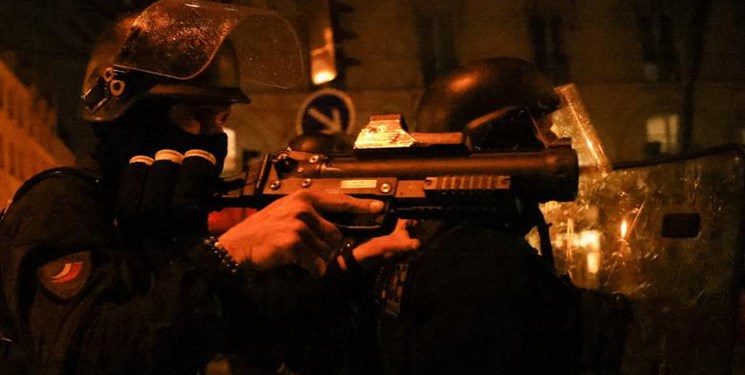 TEHRAN (FNA)- Iranian Foreign Ministry Spokesman Nasser Kana'ani condemned French police violence against demonstrators during the pension reform rallies, and urged Paris to heed its citizens' demands rather than attempting to provoke unrest in other countries.
Kana'ani, in a series of posts published on his Twitter page on Friday, reacted to mass protests over President Emmanuel Macron's plan to lift the retirement age from 62 to 64 without a parliamentary vote.
"It is reported that protesters have set fire to the town hall in Bordeaux, and that firefighters have joined nationwide protests" in the latest of a series of violent demonstrations that are rocking France, the spokesperson stated.
"They that sow the wind shall reap the whirlwind," the senior diplomat continued, adding that while Tehran does not support destruction and chaos; it declares that French officials should rather yield to their people's demands and avoid violence against them than to provoke chaos in other countries.
He wrote in another tweet that the French government "should talk to its people and listen to their voices".
"This kind of violence has nothing to do with leaning on the chair of moral lessons and preaching to others," Kana'ani stressed.
"French protesters are also waiting to see the collective video clip of European, Australian and Canadian female ministers in support of French protesting women," the spokesman pointed out.
French authorities struggled on Thursday to suppress the protests against Macron's pension reform. Unions claimed 3.5 million people turned out across the country, while the authorities suggested the figure was much lower, at just under 1.1 million.
Tens of thousands of workers went on strike and demonstrators blocked public transportation, schools and oil refineries. Attempting to break up the protests, police used tear gas, water cannons, flash-bangs and batons. Videos and photos making rounds on social media showed heavily armored officers clubbing unarmed demonstrators.
The French government has also survived two parliamentary no-confidence votes over President Emmanuel Macron's decision to push through a controversial pension reform bill without lawmakers' approval.
Iran blasts the blatant violations of human rights in the US and Europe, stressing for the US, human rights is merely a tool for exerting political pressure on independent states to advance their foreign policy objectives. Officials in Tehran call on the international community to hold the US accountable for its crimes. They mocked the US claim over supporting Iranian women and girls amid harsh sanctions which have disrupted the ordinary lives of the people.
Tehran has also denounces the disturbing human rights situation in the European countries, and note the West does not have the authority to be the flag-bearer in this field.
Iranian officials have numerously urged the international organizations to condemn police brutality against women in the United States and European states, instead of expressing concern over human rights in other countries.