Politics
2023-March-26  18:56
Iran Denounces US Occupation of Syria, Bombing of Residential Areas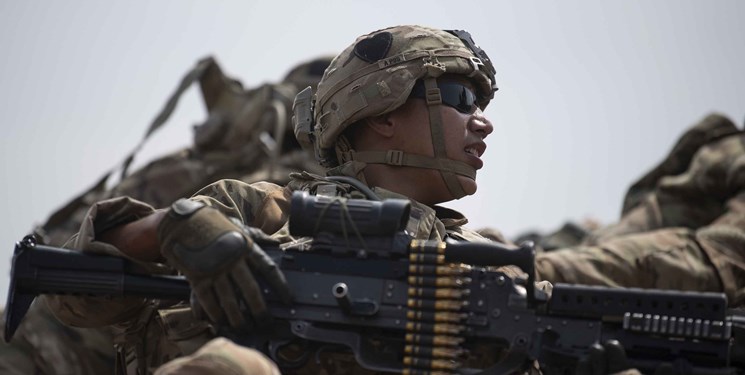 TEHRAN (FNA)- Iranian Foreign Ministry Spokesman Nasser Kana'ani strongly condemned the "terrorist attacks" by the US Army against civilian targets in the Syrian province of Deir Ezzur, and underlined that Washington's claim of war on terrorism is merely a pretext to continue occupying the Arab country and plundering its wealth.
Kana'ani made the remarks on Saturday, while condemning the US air raids on the Syrian city of Deir Ezzur, which injured civilians, as a "terrorist and inhumane" act of aggression.
"The US' claim to be present in Syria to fight Daesh, in whose creation [Washington] itself played a substantive role, is a mere excuse for continuation of [the country's] occupation and plunder of Syria's national riches, including energy and grain," the spokesperson stated.
"Continuation of illegal military presence of the US in addition to occupation of swathes of the Syrian soil and attacking various targets in that country amount to violation of international laws as well as the country's national sovereignty and territorial integrity," he underscored.
Responding to US troops' Thursday raid, Syrian resistance forces targeted two illegal American outposts with rockets, missiles and kamikaze drones on Friday.
Following the retaliatory attack and without providing any evidence, American officials, including the State Department and the Pentagon, accused the Iranian advisory center in Syria of being involved in it.
In his Saturday statements, Kana'ani roundly rejected such claims, asserting, "American officials always level baseless and unproven accusations and pass judgment on their basis, but the White House must know that this method is obsolete."
He also pointed to the "significant role" played by Lieutenant General Qassem Soleimani and Iranian anti-terror advisors in the fight against terrorism alongside the Syrian military and nation.
"The Islamic Republic of Iran's military advisors are currently present in Syria at the request of the Syrian government to help this country fight terrorism," the senior official said, adding that those advisors will remain in Syria to help its government establish peace, stability and security across the country.
Since 2011, Syria has been gripped by foreign-backed militancy, as a result of which Daesh (also known as ISIS or ISIL) and other terror groups emerged in the country.
US forces were first sent to Syria in 2014, beginning with a contingent of special operators followed by more conventional ground troops the next year, most embedded with Kurdish fighters in the country's oil-rich Northeast. Though then-President Barack Obama maintained the deployment was focused only on combating the Islamic State (IS, formerly ISIS, ISIL or Daesh) terrorists, Washington had long intervened in Syria's war against terror groups, sending and overseeing countless arms shipments to militants seeking to overthrow the government in Damascus.
Though American involvement in the conflict slowed under the next administration, in 2019 President Donald Trump noted some US troops would remain in Syria "for the oil", openly suggesting Washington would simply "keep" the energy resources. 
Subsequent reporting in 2020 would later reveal that the Trump administration had approved a deal between a US energy firm and Kurdish authorities controlling Northeast Syria to "develop and export the region's crude oil" – a contract immediately condemned as "illegal" by Damascus. However, while that particular deal would later fall through after President Joe Biden took office, Syrian authorities have continued to accuse Washington of plundering its resources and some 900 US troops remain in the country illegally.
Syria, Iran, Russia and China have repeatedly called on Washington to stop plundering Syria's national resources and respect the sovereignty and territorial integrity of the Arab country, calling on foreign occupation forces and their mercenaries to leave the war-ravaged country.
Israel frequently targets military positions inside Syria, especially those of the Lebanese resistance movement Hezbollah which has played a key role in helping the Syrian Army in its fight against foreign-backed terrorists.
The Tel Aviv regime rarely comments on its cowardly attacks on Syrian territories, which many see as a knee-jerk reaction to the Syrian government's success in confronting and decimating terrorism.
Israel has been one of the main supporters of terrorist groups that oppose the democratically-elected government of President Bashar Al-Assad since the foreign-backed militancy erupted in Syria.
Iran maintains an advisory mission in Syria at the request of Damascus with the aim of helping the war-ravaged country get rid of the foreign-backed militants who have been fighting against the democratically-elected Syrian government since 2011. Several members of the Islamic Revolution Guards Corps (IRGC) have so far martyred in battle against terrorists in the war-torn Syria.