Politics
2023-March-27  16:40
Iran, Saudi FMs Discuss Normalization of Ties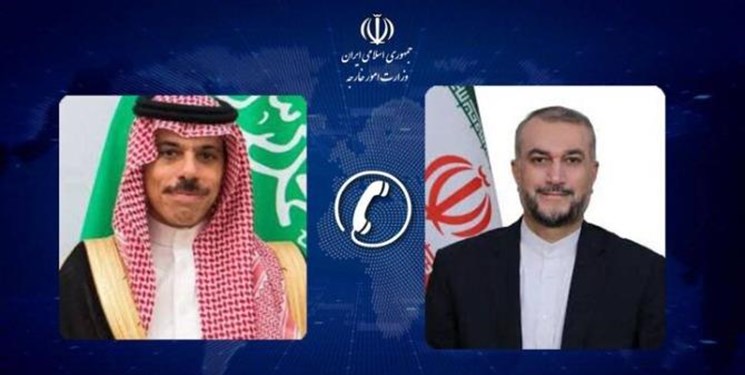 TEHRAN (FNA)- Iranian Foreign Minister Hossein Amir Abdollahian and his Saudi counterpart Prince Faisal bin Farhan Al Saud in a phone talk reviewed the latest status of bilateral agreements, and discussed the ongoing normalization of relations between the two countries.
During the phone talk on Sunday night, the Iranian and Saudi foreign minister agreed on holding a joint meeting in the month of Ramadan.
The constructive process of restoration of full bilateral ties and diplomatic relations was the main topic of talks between the two foreign ministers.
Earlier on March 23, Iranian and Saudi foreign ministers held a phone call during which they agreed to hold a meeting soon to prepare for the reopening of embassies.
The Iranian diplomat welcomed the developing return of the countries' relations back to normal and expressed Tehran's readiness to expand and reinforce its ties with Riyadh.
Pointing to the positive achievements of the Beijing meeting, the Saudi official laid emphasis on the need for the ministers to meet in the near future and the importance of re-inauguration of the countries' respective embassies and consulates general.
The officials, therefore, agreed to meet at the earliest opportunity and lay the groundwork for the reopening of the diplomatic missions.
After several days of intensive negotiations hosted by China, Iran and Saudi Arabia finally clinched a deal on Friday to restore diplomatic relations and re-open embassies and missions within two months.
Saudi Arabia severed diplomatic relations with Iran in January 2016 after Iranian protesters, enraged by the execution of prominent Shia cleric Sheikh Nimr Baqir al-Nimr by the Saudi government, stormed its embassy in Tehran.
The two sides had held five rounds of negotiations in the Iraqi capital of Baghdad since April 2021.