World
2023-April-16  15:15
40 Million Americans Under Fire Alerts After Record-Breaking Heat Triggered Huge Blazes Across New Jersey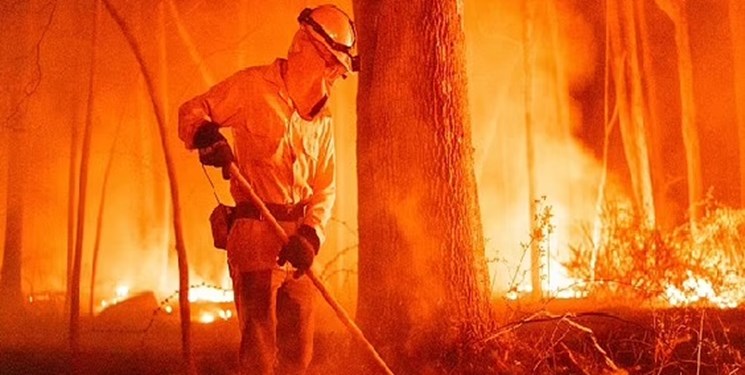 TEHRAN (FNA)- Around 40million Americans are under a fire threat as record-breaking heat has triggered blazes in New Jersey and Wisconsin, while another 50million are under severe weather alerts this weekend.
A gigantic wildfire has burned through nearly 1,000 acres of West Milford, New Jersey, leaving firefighters wrangling to contain the beast, The Daily Mail reported. 
As of 10pm on Saturday, the New Jersey Forest Fire Service announced it had "100 percent contained" the fire, but there are fears others could break out. 
Firefighters had been fighting the fire since earlier this week off Route 23 North and Spring Lake Road and it is unknown how the monstrous blaze began. However, authorities said the unseasonably warm temperatures, dry vegetation and trees didn't help stop the blaze from scotching a large area of New Jersey. 
Emergency services were seen using helicopters to drop water on the blaze and faced a dangerous situation overnight on Thursday as embers flew off and started smaller fires, but firefighters aren't too worried. 
"We have great confidence in our control lines. We will continue to mop up, patrol, cut down any dead trees," Greg McLaughlin of the New Jersey Forest Fire Service said, according to CBS News. 
On Wednesday, a separate blaze started in Wisconsin. By Friday afternoon, the 3,100-acre fire was 100 percent contained as of Thursday. 
The fire took down three buildings and one shed, but what started the fire is unknown.  
The Northeast has enjoyed high temperatures, with places like Newark and New York City hitting in the 90s, making the start of spring feel more like high summer. 
Dozens of heat records were broken on Wednesday and Thursday and NYC saw its hottest April day in years. Plenty of New Yorkers took to the city's several parks to bathe in the warm weather and ride bikes. 
Although the weekend weather will be a bit cooler, temperatures are supposed to rise again throughout the week with highs coming again on Friday.