Politics
2023-April-20  18:45
Iran Warns Off US Nuclear-Powered Submarine in Strait of Hurmuz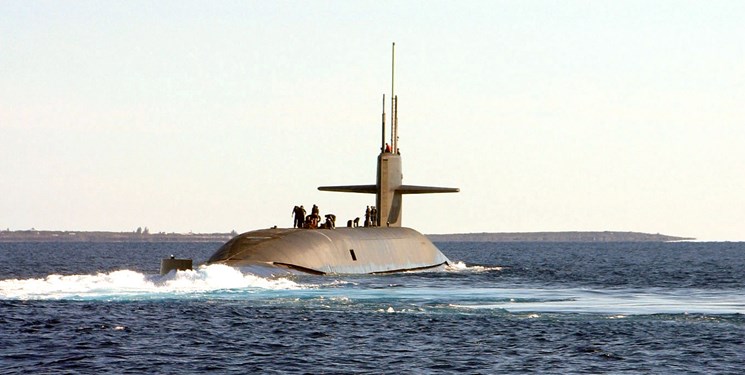 TEHRAN (FNA)- Commander of the Iranian Navy Rear Admiral Shahram Irani said that the country's naval forces have detected and warned off an American nuclear-powered guided-missile submarine as the seagoing vessel was sailing to cross the Hurmuz Strait in stealth mode.
Rear Admiral Irani stated on Thursday that the naval forces detected the US submarine, Florida, as it entered the strategic region.
"The US submarine was approaching the Strait of Hormuz while submerged, but the domestically-manufactured Iranian submarine, Fateh, detected it and carried out... maneuvers to force it to surface and cross the Strait [of Hormuz] on the surface," the senior commander explained.
He added that the US submarine had closed Iran's territorial waters and was given the necessary warnings, noting, "It changed its course with an escort and continued on its way."
The senior Iranian commander said the US must explain the reasons it violated regulations in an important international waterway, adding, "The recent warning by Iran's Navy to the US is that it must abide by all international regulations from now on."
Iran: Pentagon Movements in West Asia Part of US Struggling to Conceal Defeatshttps://t.co/CRI2Uacgpw pic.twitter.com/g9egm0USCo

— Fars News Agency (@EnglishFars) April 10, 2023
Iranian military officials say the Iranian Army and the Islamic Revolution Guards Corps (IRGC) Navies have brought stability and safety to the Persian Gulf and the Sea of Oman. They have declared the Iranian naval forces' full preparedness to fight off any plot of enemies against Tehran at its birth, stressing that the country's armed forces will teach a painful lesson to foes in case they launch any act of aggression against the country.
Military officials have warned that any mistake by the US and Israel will be met with Tehran's tough and harsh response. Iranian officials say Washington and Tel Aviv are well aware of Tehran's capabilities and capacities, and caution that Tehran does not compromise or joke with its national security. They stress the Iranian Armed Forces' deterrent power dissuades the United States and Israel from implementing its threats against the country.
Tehran has repeatedly cautioned that any plan aimed at increasing US presence in the Middle East will only foment insecurity and instability and spread terrorism, urging the neighboring countries to be extremely vigilant about any US-Israeli plan that clearly aims to disturb the stability and order of the region.