Politics
2023-April-29  13:00
FM Underlines Iran's Firm Stance in Supporting Lebanese Resistance Against Israel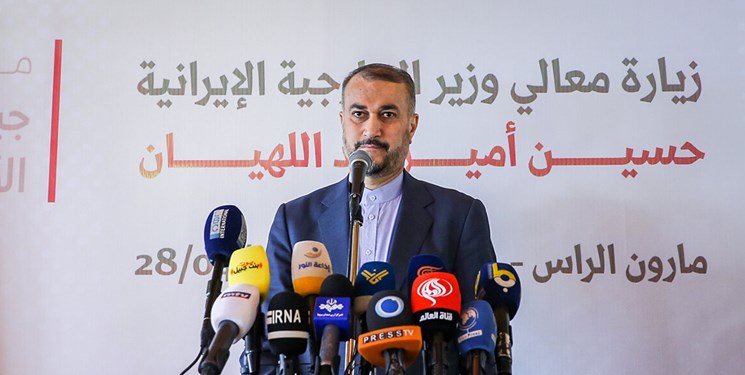 TEHRAN (FNA)- Iranian Foreign Minister Hossein Amir Abdollahian underscored that Tehran will continue to support the Lebanese resistance in the face of the Israeli regime, and stressed that the Zionist regime is in the worst security situation and under intense pressure.
Amir Abdollahian made the remarks while speaking to reporters as he visited the Maroun Al-Ras district at the Lebanese border with the occupied Palestinian lands, controlled by the Zionist regime.
The senior official expressed satisfaction about the fact that Palestinian and Lebanese resistance movements are in their "strongest ever" position, declaring that his country "loudly" supports the Lebanese resistance against the Israeli regime.
"In this Maroun Al-Ras district, we once again loudly express our support for Lebanon's resistance in the face of the Zionist regime (Israel)," he said.
The top diplomat pointed to his Friday meeting with Sayyed Hassan Nasrallah, Secretary-General of the Lebanese Hezbollah Resistance Movement, and noted that the Israeli regime is in its worst position as it is facing several multi-layered political, social and security crises.
The minister added that Iran has always supported Lebanon during its hard times and will stand by the country when peace is restored.
"Lebanon's resistance proved that the Zionists only understand the language of force and that resistance is the most important option that has brought security, comfort and preservation of territorial integrity to Lebanon," he continued.
The top official also noted a new chapter has opened up with collective cooperation in the region, adding, "Regional countries will have a very bright future."
The Iranian foreign minister expressed confidence that all positive developments in the region in dealing with Israel's measures will lead to the Tel Aviv regime's isolation.
Amir Abdollahian emphasized that Iran's political solution is based on holding a democratic referendum in the presence of all main inhabitants of Palestine, including Muslims, Christians and Jews, stating Tehran demands security, stability and prosperity for all regional nations.
Iran describes Israel as the root cause of the region's instability and insecurity, but also stresses Israel's US-supported barbarity will not change the inevitable fate of the Tel Aviv regime.
Tehran says the history of the apartheid regime is full of assassinations, massacre, torture and killing of Palestinian kids, and described Tel Aviv regime's atrocities and massacre of Palestinian women and children as indicative of the destitute of Zionists. Iranian officials say the Tel Aviv regime has been struggling for more than 70 years to exit its identity crisis which has been mixed with genocide, plunder, forced displacement and scores of other inhumane moves.