Politics
2023-May-5  22:08
President Rayeesi: Syria Visit Turning Point in Tehran-Damascus Ties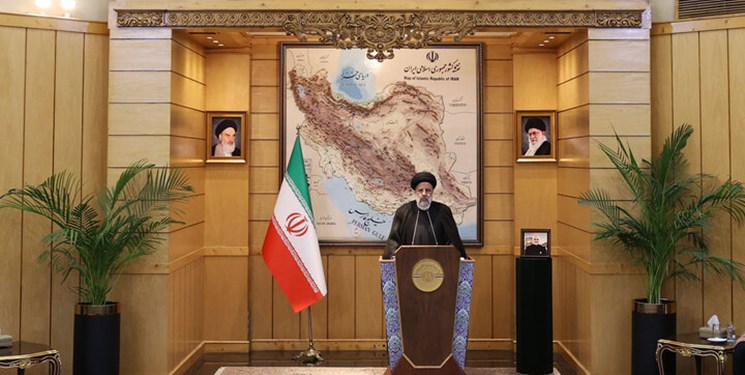 TEHRAN (FNA)- Iranian President Seyed Ebrahim Rayeesi thanked the Syrian government and nation for their warm hospitality during his two-day trip to that country, and said his visit was a turning point in the expansion of economic, trade, political and security relations between the two states.
"This trip was also kind of a showing respect to the resistance of the Syrian people and government against the harsh attacks by the enemies," President Rayeesi told reporters at a press conference in Tehran after his two-day trip to Syria.
Stating that Iran and Syria have good potentials and fields for exchanging and cooperating with each other in order to enhance the level of economic and trade relations, the Iranian president said, "In the several meetings I had with President Bashar Assad, mainly economic and trade issues and the exchange of mutual potentials and capabilities between the two countries were discussed."
He pointed out that the two sides discussed cooperation in the field of energy production and distribution, facilitating economic and commercial cooperation by establishing a joint bank and insurance and reducing trade tariffs between the two countries to zero.
"Somehow, the implementation of the agreements started in Syria itself, and the Iranian officials started the implementation work in contact with the officials inside that country, and we hope that these agreements will be implemented and become operational as soon as possible," the Iranian president added.
President Rayeesi thanked the Syrian government and people for the warm hospitality.
President Rayeesi and his accompanying delegation, which includes foreign, oil, defense, finance and economic affairs and roads and urban development ministers as well as Iran's central bank chief, landed in the Syrian capital on Wednesday for a two-day trip. It marks the first state visit by an Iranian head of state to Damascus in 13 years.
Rayeesi and his Syrian counterpart Bashar Al-Assad held a meeting on Wednesday and singed an agreement on "long-term strategic comprehensive cooperation" between the two countries.
The two presidents have highlighted the importance of Iran-Syria's long-term cooperation plan for advancing the interests of the two nations and other countries in the region.