UK Rail Passengers, Eurovision Fans Face Significant Disruption in Fresh Strikes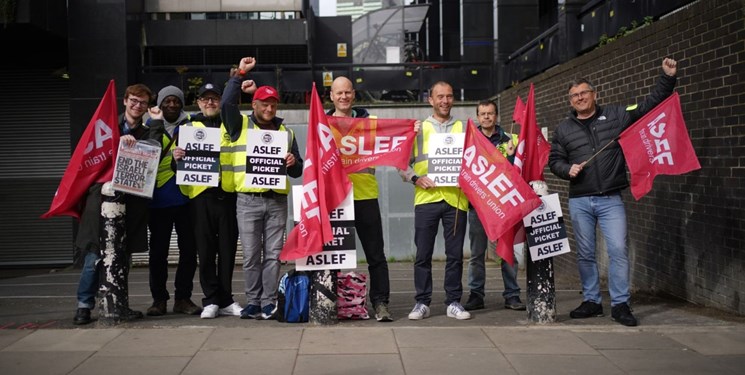 TEHRAN (FNA)- Rail passengers across the country face significant disruption on Friday as workers from the Aslef union walk out in a long-running dispute over pay.


Aslef members in more than a dozen train operators are striking on Friday with more walkouts planned for May 31 and June 3 - the day of the FA Cup final in Wembley, Sky News reported.
Meanwhile, members of the Rail, Maritime and Transport union (RMT) will strike on Saturday as thousands make their way to the Eurovision Song Contest final in Liverpool.
Passengers travelling on Monday and Saturday have been urged to check their route before setting off.
Aslef General Secretary Mick Whelan said the blame for the long-running walkouts should be placed on the train operators.
"We do not want to go on strike - we do not want to inconvenience passengers, we have families and friends who use the railway too, and we believe in investing in rail for the future of this country," Whelan said.
"But the blame for this action lies, fairly and squarely, at the feet of the employers who have forced our hand over this by their intransigence," he said.
"It is now up to them to come up with a more sensible, and realistic, offer and we ask the government not to hinder this process," he added.
Aslef has previously described the 4% pay offer as "risible and obviously unacceptable".
Whelan said train companies "have their hands tied by the Department for Transport and aren't able to negotiate a reasonable deal".
However, Rail Minister Huw Merriman said the average annual salary of a train driver is "just short of £60,000 for a 35 hour base week" and the offer put to Aslef "would take the pay up to £65,000".
"These are train drivers that have received a 39% increase in their wages since 2011. It's a well-paid job. It will continue to be even more well-paid if they were to put that offer to their members," he told Sky News.
He suggested unions are "deliberately" targeting events like Eurovision to maximise disruption.
This is something unions have denied, but Merriman said, "They either don't have a particularly good sporting or events calendar or it has been done deliberately to try and ratchet up the disruption for passengers."
Steve Montgomery, who chairs the Rail Delivery Group, apologised to customers for the strikes, saying it will cause "disappointment and frustration" for those attending Eurovision and FA Cup final.
"While we are doing all we can to keep trains running, unfortunately there will be reduced train services across the network between Friday May 12 and Saturday June 3 , so our advice is to check before you travel," he added.
Labour's Shadow Health Minister Wes Streeting said he was "one of those affected passengers who hoped to get to Eurovision on Saturday but won't be able to now" as he hit out at the government's handling of the strikes.
He said workers are walking out because they "are absolutely desperate about the cost of living" and want their pay to keep up with rising bills.
"The challenge we've got is the government, in terms of its industrial relations, makes the same mistakes over and over again, refusing to sit down and negotiate at all, allowing the disruption to unfold, and then finally concluding that it's time to sit down and talk," Streeting told Sky News.
"The transport secretary hasn't met with the unions since before Christmas. I think that's negligent, actually," Streeting  added.
On Friday, Transport Secretary Mark Harper announced train services run by TransPennine Express will be brought under government control after widespread delays and cancellations in the past year.
The operator, which covers an area across Northern England and into Scotland, has been badly affected by drivers who are members of the Aslef union no longer volunteering to work paid overtime shifts.
Harper said his department has "played our part but Aslef now need to play theirs" by calling off strikes and the ban on rest day working.
Whelan accused Harper of "trying to blame Aslef - rather than the company's inept management - for its many problems".