Economy
2023-May-18  19:17
Iranian President, Pakistani PM Inaugurate Border Market, Electricity Transmission Line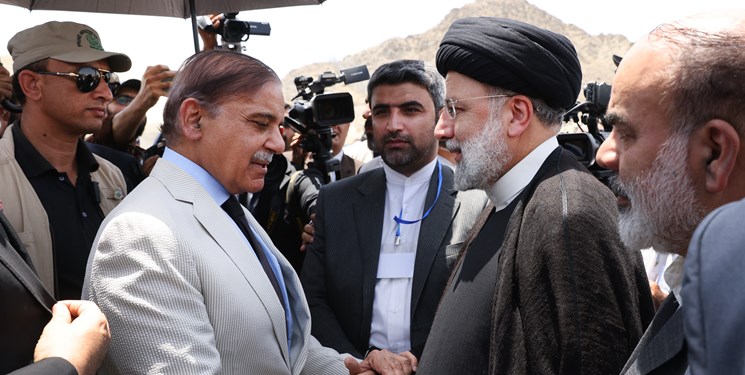 TEHRAN (FNA)- Iranian President Seyed Ebrahim Rayeesi and Pakistani Prime Minister Shehbaz Sherif inaugurated a joint retail market at a border crossing linking the Iranian city of Pishin to the Pakistani city of Mand in a bid to further boost trade ties between the two countries, as well as an electricity transmission line between Iran's Polan and Pakistan's Jiwani.
The Pakistani premier was warmly welcomed by Iran's President on Thursday at the border zero point before proceeding with the official ceremonies.
The opening of the retail market is seen as an important development that can positively affect the economic situation of residents in the border regions.
Manager of border markets in Sistan and Baluchestan Province Mobin Ali Mir told reporters 6,000 households in Pishin and other nearby regions will benefit from discounts at the new retail market.
The retail market, he added, will help businesses flourish and create employment for residents of border regions as well.
Retail bazaars have been set up to support border residents, who will be able to engage in trade worth up to $400 per week without customs formalities, the official continued.
Five other similar border markets are also under construction in the province, Mir stated.
Rayeesi and Sherif have also launched an electricity exchange line between the two countries in the same region.
The worth of the 132-KV transmission line is 2,250 billion rials, according to the head of the Sistan-Baluchestan electric company. Mehdi Piri stated that the joint electricity transmission line will help import and export of electricity in due time.
During a meeting after the inauguration ceremonies, Rayeesi and Sharif have also exchanged views on ways to strengthen cooperation between the two neighboring countries, especially in commercial, economic and border fields.
The two sides stressed the need to keep up the exchange of high-level delegations between Tehran and Islamabad as well as mutual efforts to increase the volume of bilateral trade.
President Rayeesi said that Tehran and Islamabad have very good relations which have roots in their beliefs, religions and civilizations.
He described the current ties between Iran and Pakistan as a model.
Sharif, for his part, stressed the importance of enhanced cooperation with Tehran, and stated that energy projects and border markets are emblematic of the vitality of Pakistan-Iran friendship.
He added that cooperation between the two friendly and brotherly countries will increase at all levels.
The Pakistani PM has also invited Iran's president to visit Islamabad.
The administration of President Rayessi has made ties with neighbors a top priority of its foreign policy.
Iranian officials have repeatedly reiterated that President Rayeesi's foreign policy is basically built on good neighborliness. They stated that Tehran is willing to further expand relations and cooperation with its neighbors despite enemies' opposition.
Iran has significantly expanded bilateral cooperations with its neighbors in recent months, especially in trade and commerce.
Tehran and Islamabad have been working to enhance economic ties in recent years. Iran's non-oil export to Pakistan increased by 18 percent in the previous Iranian calendar year (which ended on March 20), according to the spokesperson of the Iranian House of Industry, Mining, and Trade's Trade Development Committee.
Pakistan was Iran's fifth largest export market in the previous calendar year, importing non-oil products worth $1.488 billion from Iran, Rouhollah Latifi said in early May.
He added that Iran imported non-oil goods worth $842 million from Pakistan last year, up 170 percent from the previous year.