Politics
2023-May-20  16:20
Leader Calls on Diplomatic Corps to Fight Off Anti-Iran Policies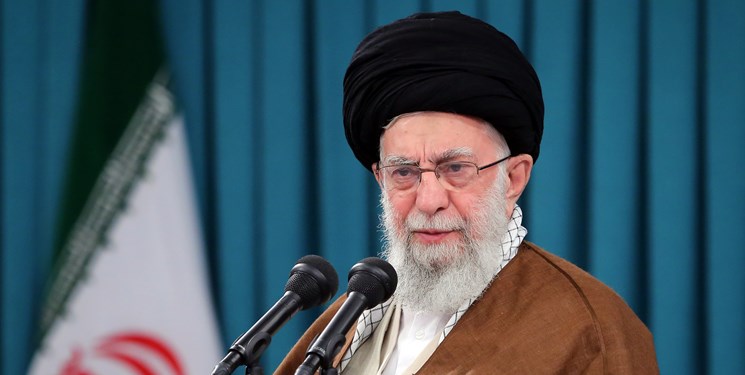 TEHRAN (FNA)- Supreme Leader of the Islamic Revolution Ayatollah Seyed Ali Khamenei urged the Iranian Foreign Ministry to boost power of Tehran's allies, extend the country's strategic depth and employ all instruments in order to root out anti-Tehran plots and threats.
Ayatollah Khamenei made the remarks in a meeting with a group of Iranian Foreign Ministry officials and ambassadors to other countries in Tehran on Saturday.
He stressed that a favoured foreign policy and an efficient diplomatic apparatus are among the most important pillars of a successful administration.
The Supreme Leader enumerated six necessary principles in foreign policy, namely the ability to convincingly clarify the logic of the country's approaches to various issues; an impactful presence in various political-economic phenomena, events and currents in the world; eliminating policies and decisions that threaten Iran; countering risk-creating environment; strengthening governments and groups that are allied and united with Iran and expansion of the country's strategic depth; and the ability to recognize hidden layers in regional and global decisions and actions.
Elsewhere in his speech, Iran's Leader warned of the enemies' efforts to stoke tensions between Tehran and its neighbors.
Ayatollah Khamenei touched on Iran's long borders with many and sometimes important and influential countries, saying the policy of the government to communicate with its neighbors is very important and right.
"Foreign hands are at work to create problems between Iran and its neighbors. You should not allow this policy to be realized," he cautioned, adding, "The policy of communication with Islamic countries, even those far away, as well as with like-minded and supporting countries is important."
He touched on the ongoing transformation in the world order and its frequent use in diplomatic literature.
"The transformation in the world order is a long-term process full of uncertainties and possible unforeseen events, where different countries have different and conflicting opinions and approaches toward it," Ayatollah Khamenei stated.
Ayatollah Khamenei said a proper placement of Iran in the new order by monitoring and evaluating global developments and knowing the exact direction of events is important.
"Based on this observation and evaluation, practical suggestions should be drawn out," the Supreme Leader continued, adding Iran's ambassadors and representatives should play an important role in this regard, especially in the countries which have a say in international developments. 
Ayatollah Khamenei stressed the need for Iranian officials to pursue negotiations with international sides from a position of dignity, noting that leniency in foreign policy does not conflict with fundamentals and principles.
"Dignity in foreign policy means negation of the diplomacy of imploring," he underscored. 
The Leader underlined that Iranian diplomats and envoys should never pin their hopes on a specific political figure, and get carried away by others' comments and actions.
"Dignity means we should not put absolute trust in others, but rather rely on our own principles," Ayatollah Khamenei said.
The Leader added wisdom means taking landmark decisions within the course of international interactions.
"Wisdom means acting prudently, sensibly and considerately in all bilateral and multilateral interactions, and steering clear of derogatory, scathing and disparaging comments. Wisdom means every move is anchored in reasonableness, and carefully thought out and calculated," the Leader of the Islamic Revolution highlighted.
Ayatollah Khamenei said expediency in foreign policy means knowing how to stay flexible, as flexibility does not conflict with fundamentals and principles.
He also called on Iranian ambassadors to employ "good, timely and well thought out" personal initiatives during interactions with foreign authorities.
The Leader described the Iranian envoys as representatives of the nation's identity and character, adding, "Iranian diplomats should be a symbol of faith, love for dear Iran, zeal and determination. They should be dynamic and vigorous, and their remarks and actions should garner respect for Iranian people."
Ayatollah Khamenei has repeatedly said that the enemy has been defeated in the maximum pressure policy against the Iranian nation, and added that the country's military power has left no room for any concern over external threats.
He has categorically rejected the Western country's claims of a deadlock in Iran, stressing that their non-stop and all-out attempts to overthrow the Islamic Republic expose untruthfulness of their remarks.
"Of course, there are and there were opposing and dissident voices. The enemies – the world's media empire, which is in the hands of the Zionists and the Americans – tried to make the [opposing] voices prevail, but no; [they] could not. The voice of the nation prevailed over the voice of others," he stated in mid-February.
Ayatollah Khamenei rejected claims that the Islamic Republic has reached an impasse, stressing, "If we have reached an impasse, why does the enemy spend so much to overthrow [the Islamic Republic]? Well, overthrowing a government that has reached an impasse doesn't need money, it will be overthrown by itself!"
Iranian officials say the enemies have been defeated in the maximum pressure policy against Tehran.
They blame Western countries for orchestrating the recent riots and conducting hybrid warfare against Iran to destabilize the country, adding that the foes resorted to the psychological and media wars against Tehran after all their plots were thwarted by the nation.