Politics
2023-May-22  10:41
Iran Strongly Condemns Hawkish Israeli Minister's Tour of Al-Aqsa Mosque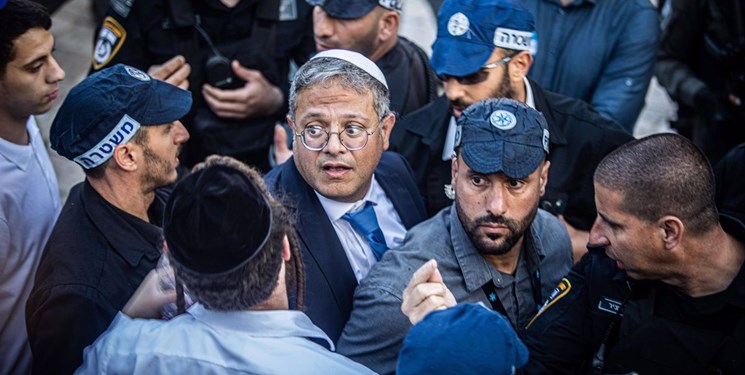 TEHRAN (FNA)- Iranian Foreign Ministry Spokesman Nasser Kana'ani strongly deplored the provocative move by Israel's far-right National Security Minister Itamar Ben-Gvir who entered the Al-Aqsa Mosque compound in occupied East Jerusalem.
Kana'ani said in a Monday statement that such bold and provocative measures are another dimension of the widespread and constant crimes committed by the Zionist regime against the Palestinian nation, religious and the Islamic sanctities in the occupied lands.
The spokesperson called on the global community and the Islamic World to immediately and effectively react to Ben-Gvir action.
"The holy Al-Quds is and will remain as the integrated and eternal capital of Palestine and the Zionist occupiers' consecutive violations of this city and its Islamic sanctities will not change its historical realities and status," the senior official stressed.
Escorted by the Israeli regime's troops, Ben-Gvir entered the holy site of Al-Aqsa Mosque through the Moroccan Gate on Sunday. He has claimed Israel's ownership of the compound in a video message from the courtyard.
It came days after groups of Jewish youths scuffled with Palestinians and chanted racist slogans during the annual far-right "flag march" through the Old City.
Iran: Israeli Sacrilege of Al-Aqsa Mosque Reaction to Gaza Defeathttps://t.co/ils7uSk9Yh pic.twitter.com/e6QqCo42HV

— Fars News Agency (@EnglishFars) May 20, 2023
Al-Aqsa Mosque is an Islamic site where unsolicited visits, prayers and rituals by non-Muslims are forbidden, according to decades-long international agreements.
Israeli legislators and settlers make regular provocative entries into the Al-Aqsa Mosque compound, which sits just above the Western Wall plaza, and houses both the Dome of the Rock and the Mosque.
Palestinians consider defiance of the ban on prayer as a provocation and fear that Israel intends to take over the site. The increased number of ultranationalist Jews entering the compound, and the frequent storming of the site by Israeli security forces, including inside the prayer hall of Al-Aqsa Mosque, has increased Palestinian anger.
A spokesman for Palestinian President Mahmoud Abbas stated that Ben-Gvir's "incursion at an early hour, like thieves, into the Al-Aqsa Mosque courtyards will not change the reality and will not impose Israeli sovereignty over it".
In 2021, tensions around Al-Aqsa were followed by an 11-day Israeli assault on the besieged Gaza Strip.