Politics
2023-May-22  13:45
Iran's Police Vow Martyrdom of Border Guards Not to Remain Unanswered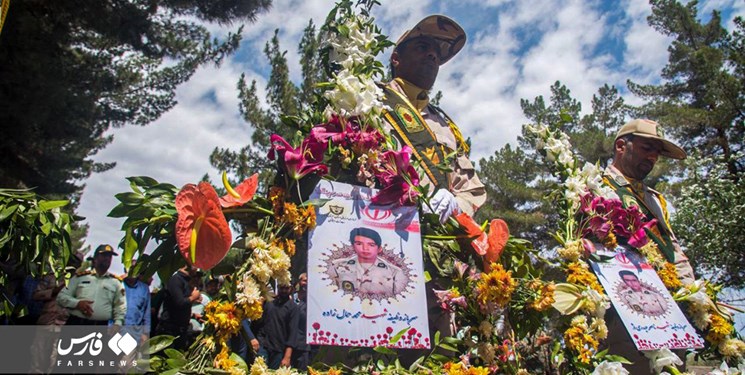 TEHRAN (FNA)- Iran's Deputy Police Chief Brigadier General Qassem Rezaei issued a strong warning to terrorists behind a fatal raid on a border post in Sistan and Baluchestan province, and pledged that harsh punishment is awaiting the militants over the bloodshed.
A funeral ceremony for five Iranian border guards who were martyred in the terror attack was held in the city of Zahedan, the capital of the Sistan and Baluchestan province, on Monday.
Speaking at the funeral ceremony, Brig. Gen. Rezaei warned the deceived people who are following in the enemies' footsteps that they "will definitely get a decisive and crushing response wherever it is necessary".
"Today, police forces are more resolved and you will hear the news of the revenge in the near future," he added.
The deputy police chief also emphasized that such incidents will not create divisions between Iran, Pakistan and Afghanistan as the trio enjoy long-standing relations.
"Pakistan has given a message, saying that it will deal decisively with the perpetrators of the terrorist attack, and that it is the last message," he stressed.
Separately, the Iranian border police commander warned neighboring countries to observe the principle of good neighborliness and not allow destabilizing activities on their soil.
"Our patience has limits," Brigadier General Ahmad Ali Goudarzi stated.
On Saturday, five Iranian border guards were martyred and two others wounded in Saravan region in Sistan and Baluchestan province in an overnight clash with gunmen trying to sneak into the country through Southeastern border. The terror attack was carried out by several militants which intended to infiltrate the country's border but fled to the other side of the border after the fierce confrontation.
Iranian security agents have in recent years dismantled several terrorist networks affiliated with the foreign-backed notorious terror group known as Jaish Al-Adl in the Southeastern province of Sistan and Balouchestan.
Sistan and Baluchestan province, which borders Pakistan, has witnessed several terror attacks targeting both civilians and security forces over the past years.
The Pakistan-based Jaish Al-Adl has conducted several bomb attacks and kidnappings in Southeastern Iran in a bid to disrupt the country's security. The terror group enjoys all-out backing of the United States and some Arab countries in the West Asia region.
Iran has in recent months captured several members of spy networks affiliated to foreign secret services. The militants were involved in making explosives and hand-made bombs and linked to foreigners and planned to carry out counter-security acts and set up operational groups to direct the riots in Iran.