Politics
2023-May-24  16:34
Leader Praises Parliament for Prompt Lawmaking on Nuclear Policy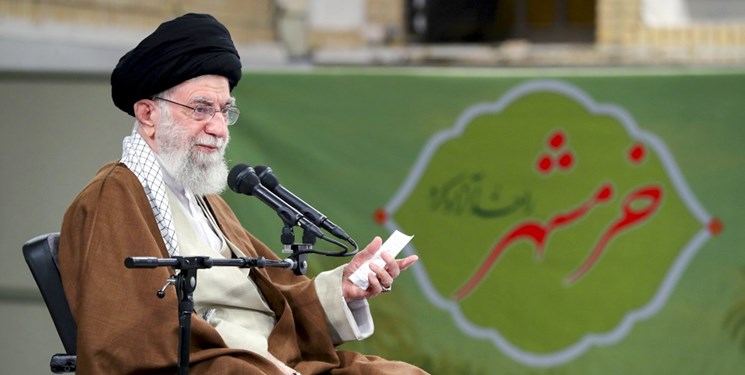 TEHRAN (FNA)- Supreme Leader of the Islamic Revolution Ayatollah Seyed Ali Khamenei lauded the Iranian parliament for its strategic bills, and said the legislator's strategic law on countering sanctions approved over two years ago saved Iran from a state of quandary with regard to the nuclear issue.
Ayatollah Khamenei made the remarks in a meeting with Iranian lawmakers in Tehran on Wednesday.
The Leader hailed the strategic laws passed by the current parliament, including The Strategic Action Plan to Counter Sanctions, stressing the law adopted by the Iranian Parliament in 2020 to counter anti-Tehran sanctions saved the country from "bewilderment in nuclear issue".
"The strategic action law saved the country from bewilderment in the nuclear issue," he continued, adding, "This law clearly defined what we should do and we are witnessing its manifestations in the world."
The legislation was adopted more than two years ago by Iranian lawmakers to counter sanctions imposed on Iran by the United States and its Western allies, and promote the country's peaceful nuclear program.
Iranian officials say Tehran, at the same time as adhering to the Strategic Action Plan to Counter Sanctions law passed by the parliament in December 2020, is determined to settle disputes and resolve differences with the International Atomic Energy Agency (IAEA) within a framework of constructive and mutual interaction and technical cooperation.
In early March, IAEA Director General Rafael Grossi visited Iran and held meetings with Head of the Atomic Energy Organization of Iran (AEOI) Mohammad Eslami, President Seyed Ebrahim Rayeesi and Foreign Minister Hossein Amir Abdollahian to discuss Iran's nuclear program.
At the end of the Grossi's trip, Tehran and the nuclear watchdog issued a joint statement, and agreed to continue their interactions in a spirit of cooperation and in full conformity with the competencies of the IAEA and the rights and obligations of Iran.
The AEOI chief underlined at that time that Iran considers the Safeguards Agreement with the IAEA, the Non-Proliferation Treaty (NPT) as well as strategic law adopted by the Iranian parliament as the basis for its nuclear activities, but underscored that the UN nuclear watchdog's supervisions should be within Tehran's frameworks and reservations.
Iran proved the peaceful nature of its nuclear program to the world by signing the 2015 nuclear deal with six world powers. However, Washington's exit in May 2018 and its subsequent re-imposition of sanctions against Tehran left the future of the agreement in limbo.
Negotiations kicked off in the Austrian capital city of Vienna in April 2021, with the intention of removing anti-Iran sanctions and examining the United States' seriousness in rejoining the agreement.
The talks, however, have been at a standstill since August 2022 due to Washington's insistence on not removing all the sanctions and its failure to offer necessary guarantees that it will not abandon the deal again.