Holiday Nightmare as Passport Gates Go Down at Major UK Airports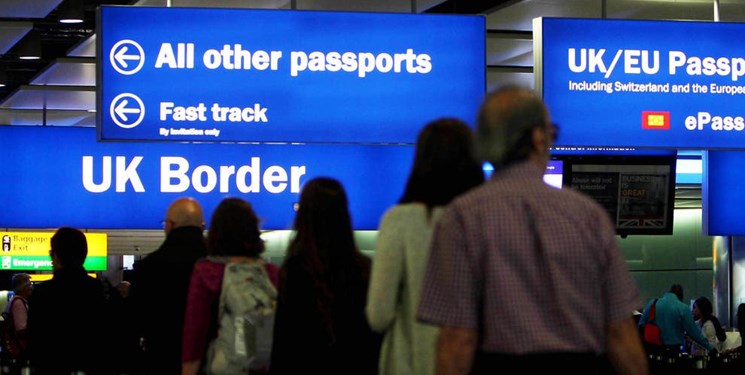 TEHRAN (FNA)- Travellers faced chaos on Saturday after the passport e-gate system at UK airports failed, causing lengthy delays as the bank holiday getaway kicked off.
Disgruntled travellers took to social media after some spent several hours waiting at airports, including Heathrow and Gatwick, as arrivals needed to have their passports checked by hand rather than the automated machines, The Independent reported.
The problems came as millions are expected to take to the roads and public transport this weekend, with some lengthy queues already impacting travellers at the Port of Dover.
One person arriving at Heathrow posted on Twitter, "Just landed to scenes of utter chaos. 2 hour queues just to get to the real queue. Gates broken."
Another passenger at Gatwick described the situation as an "utter joke".
Chris O'Hara posted on Twitter, "2 am, Gatwick North Terminal passport control. Unbelievable. Welcome to modern Britain. And of course the aircon is shut down so it's stiflingly hot."
A Gatwick airport spokesperson stated that the problem started on Friday evening but queues had eased on Saturday morning, adding, "Some passengers may experience delays at immigration due to a nationwide issue with UK Border Force e-gates."
"Our staff are working with UK Border Force – who operate passport control including the e-gates – to provide assistance to passengers where necessary," the spokesperson continued.
Heathrow airport posted on Twitter, "We are aware of a nationwide issue impacting the eGates, which are operated by Border Force."
"This issue is impacting a number of ports of entry and is not Heathrow specific," it noted, adding, "Our teams are working closely with Border Force to help resolve the problem as quickly as possible and we have additional colleagues on hand to manage queues and provide passenger welfare. We apologise for any impact this is having to passenger journeys."
A Home Office spokesperson said that the Border Force had put in place "robust plans" to deploy officers to minimise disruption and wait times.
The automated e-gate system is available for British citizens aged over 12 and those from the EU, as well as people from several other countries including Australia, Canada, the US, Japan and New Zealand.
The spokesperson stated on Saturday evening the problem had been resolved, adding: "Following a technical border system fault which affected e-gate arrivals into the UK, we can confirm all e-gates are now operating as normal.
"We thank those travellers who were impacted for their patience and staff for their work in resolving the issue," the spokesperson added.
The problems come after British Airways had to cancel 175 flights following an IT failure on Thursday and Friday.
Most of the affected flights were on short-haul routes to and from Heathrow airport.
British Airways announced that the "technical issue" was resolved on Thursday night, but disruption continued into Friday because of aircraft and crew being out of position.
Friday was expected to see the most departures from UK airports since 20 December 2019, with more than 3,000 flights planned.
Meanwhile, long queues have been experienced at Dover which has also experienced IT problems.
The Port of Dover posted on Twitter, "Thank you for your patience as we catch up from earlier IT issues at border control, which have been resolved. Traffic now processing well through border. Average waiting times for cars and coaches now 90 mins."
The RAC estimated that drivers across the UK will embark on 19.2 million leisure car trips between Friday and Monday making it the busiest late May bank holiday since 2019.
Transport data company Inrix warned that journeys on some stretches of the M25 will take up to three times longer than normal.
They include clockwise from Junction 23 for Hatfield to Junction 28 for Chelmsford, and anticlockwise towards the Dartford Crossing.
Long delays are also expected on the M5 in Somerset and the M6 in Cheshire and Greater Manchester.
Bob Pishue, transportation analyst at INRIX, said, "With near record-breaking travellers expected to be on the road for the bank holiday, drivers should expect long delays, especially in and around major cities, as commuters mix with holiday travellers."
"On average, INRIX predicts travel times could be nearly 30 per cent longer than normal. Knowing when and where congestion will build can help drivers avoid the stress of sitting in traffic. Our advice is to avoid driving during peak hours or use alternative routes," Pishue added.