Politics
2023-May-28  19:15
Army Commander: Full Security Established Along Iran's Border with Afghanistan After Scattered Clashes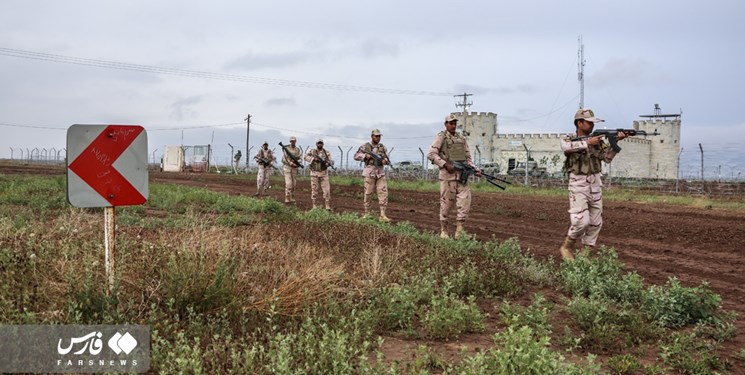 TEHRAN (FNA)- Commander of the Iranian Army Ground Force Brigadier General Kiomars Heidari said calm and stability has restored in border areas between Iran and Afghanistan following skirmishes between the country's border guards and Taliban fighters.
Brig. Gen. Heidari and Iranian Police Deputy Commander General Qassem Rezaei on Sunday paid a visit to Sistan and Baluchestan province in the Southeast of the country which shares borders with Pakistan and Afghanistan.
"The border with Afghanistan is fully under the control of the Iranian Army's Ground Forces and the border guards, and security has been completely established in the border area," Heidari underscored.
"As long as the opposite side respects the regulations and norms, it will see mutual respect. But if it is felt that it does not want to comply with the rules, it will face a different treatment," the senior commander underlined.
He stressed that neighboring countries should come to realize that the common borders are the borders of friendship, adding that the Iranian side is not looking for an escalation of border tensions, but won't allow any misfortune to happen.
Taliban fighters opened fire on Iranian border guards on Saturday. The Iranian side responded in kind, inflicting "heavy casualties and serious damage" on the opposite side. The incident took place at the border of Iran's Sistan and Baluchestan province and the Afghan province of Nimroz.
One Iranian border guard was martyred and two civilians wounded during the exchange of gunfire.
Iran's deputy police chief has said that the border guards responded "decisively" to the "unprovoked" shooting. Following the attack, the Iranian side gave the necessary warnings to the Taliban attackers in accordance with border protocols.
Rezaei added that Iran's Police Chief Ahmad Reza Radan gave all the "necessary firm orders" to the border guards to "bravely and resolutely defend the borders and not allow anyone to trespass or approach."
Tensions have spiked between Iran and Afghanistan in recent months over the Taliban's failure to honor a 1973 water-sharing treaty, and restricting the flow of water from the Helmand River to Iran's arid Eastern regions.
Iran: Formation of Inclusive Gov't in Afghanistan Requisite for Recognition of Ruling Bodyhttps://t.co/Ql6C2zHr9u pic.twitter.com/c1F1V0bfek

— Fars News Agency (@EnglishFars) May 26, 2023
Tehran has not officially recognized the Taliban since the group took control of neighbouring Afghanistan following the withdrawal of United States forces in August 2021. Iranian officials have repeatedly stressed that the recognition would hinge on the formation of an "inclusive" government in Afghanistan.
Iranian officials blamed the US military deployment in Afghanistan for different crises in the war-hit country. They also stressed that Tehran has sustained a lot of pressure from hosting most refugees among the countries of the region.