Politics
2023-May-29  23:26
FM: Iran, Oman Seeking to Sign Comprehensive Plan of Strategic Cooperation in Near Future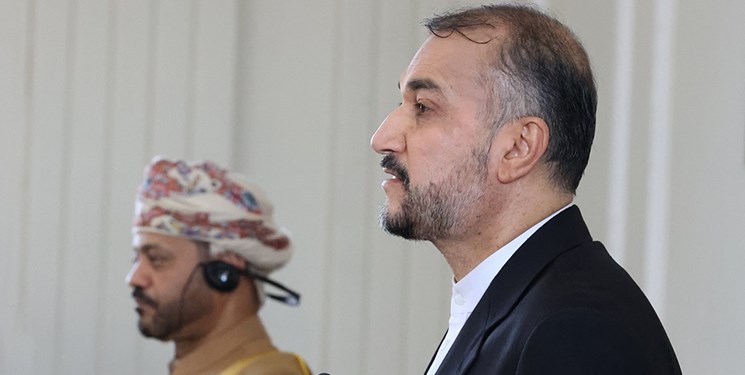 TEHRAN (FNA)- Iranian Foreign Minister Hossein Amir Abdollahian praised Oman's constructive role in regional and international arenas, and further underlined Tehran and Muscat's determination to ink a comprehensive strategic cooperation agreement in the near future.
Amir Abdollahian made the remarks in a joint press conference with his Omani counterpart Sayyid Badr Albusaidi in Tehran on Sunday.
The Iranian minister said, in addition to the four documents, leaders of Iran and Oman seek to finalize a comprehensive strategic cooperation agreement in the near future.
Trade exchanges between Iran and Oman have more than doubled since President Seyed Ebrahim Rayeesi paid an official visit to Muscat last May, when 12 Memorandum of Understandings were signed, the senior official continued.
The minister expressed hope that the new agreements will further boost the growing trade between the two countries. 
He underscored that Iran and Oman agree on the need to improve shipping cooperation and activate the capacity of the two countries' ports.
The top diplomat added that the implementation of the Ashgabat agreement and the establishment of a four-way transit route between Iran, Oman, Turkmenistan and Uzbekistan were among other important issues discussed with the Omani delegation.
Iran and Oman on Sunday inked four documents to improve cooperation in various sectors amid an official visit to Tehran by Oman's Sultan Haitham bin Tariq Al Said. Tehran and Muscat will boost collaboration in the economic, energy and investment fields as well as free zones.
President Rayeesi said in a meeting with Sultan Haitham and his delegation that the two countries should seek to finalize the formation of a fund to support joint investment projects between the two countries.
Al Busaidi, for his part, emphasized that Sultan Haitham's visit to Iran marks a new phase in bilateral relations, and signifies the continuation and depth of ties between the two allies.  
Sultan of Haitham arrived in Tehran on Sunday for an official visit. The Omani Sultan and Iranian President Seyed Ebrahim Rayeesi held a meeting after a formal welcome ceremony at Sa'ad Abad Palace in Tehran.
Top officials from Iran and Oman also signed four documents on Sunday to boost collaboration in various fields. 
President Rayeesi has repeatedly stressed the promotion of cooperation with neighboring and regional countries is a priority of Tehran's foreign policy. He stated that such interactions can play a very effective role in deepening economic and political ties.