Politics
2023-May-29  23:33
Iran's Rayeesi Congratulates Turkey's Erdogan on Winning Presidential Race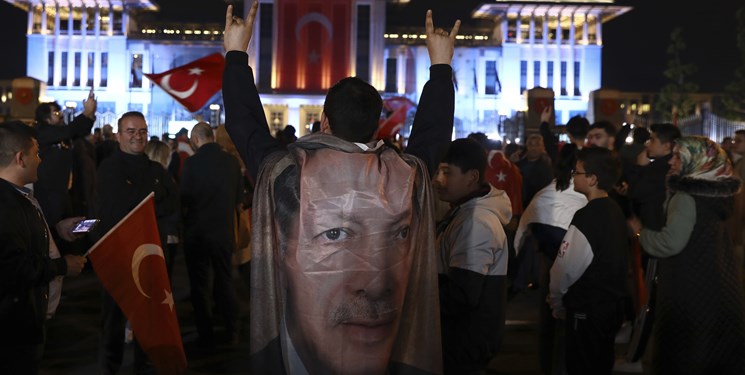 TEHRAN (FNA)- Iranian President Seyed Ebrahim Rayeesi congratulated Turkish President Recep Tayyip Erdogan after he was re-elected in a historic run-off that posed the biggest challenge to his 20 years in power, calling it a sign of continued valuable trust of the Turkish people.
President Rayeesi, in a message on Sunday, expressed confidence that relations between Iran and Turkey will further strengthen during Erdogan's new term in office. 
The Iranian president said that the relationship between the two neighboring countries were based on strong historical, cultural, religious bonds as well as good neighborliness, mutual respect and shared interests.
The close cooperation between Tehran and Ankara will provide even "more favorable conditions" for promoting peace, stability, security and development in the region, he added.
Erdogan, 69, won Turkey's presidential election, defeating opposition leader Kemal Kilicdaroglu in Sunday's runoff vote and stretching his rule into a third decade. 
With almost all of the votes counted, Erdogan received 52.14 percent of votes in the second round, beating Kilicdaroglu, who won 47.86 percent, according to the Supreme Election Council. Erdogan reached 49.5 percent in the first round against Kilicdaroglu's 44.9 percent.
Despite citizens being called to vote again two weeks after May 14's initial election, the turnout remained around 85 percent.
Speaking to thousands of his supporters outside the presidential complex in Ankara, Erdogan said that now was the time to "put aside all the debates and conflicts regarding the election period and unite around our national goals and dreams".
"We are not the only winners, the winner is Turkey. The winner is all parts of our society, our democracy is the winner," he added.
"The most urgent issue… is to eliminate the problems arising from the price increases caused by inflation and to compensate for welfare losses," the president stressed.
Official data shows that inflation in Turkey was at 50.5 percent in March, down from a high of 85.6 percent in October.