Politics
2023-May-29  23:54
Leader: Iran Welcomes Rekindling Diplomatic Ties with Egypt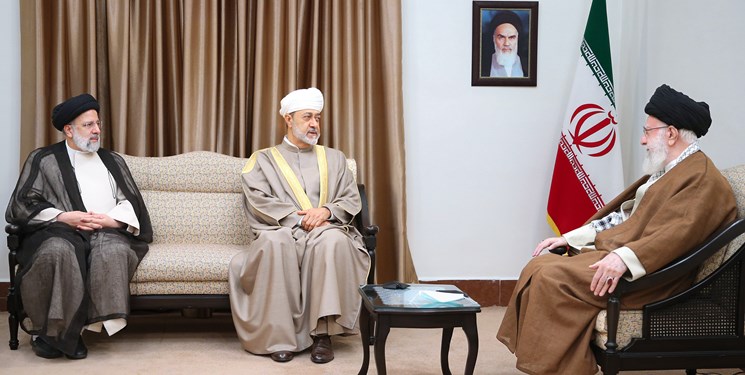 TEHRAN (FNA)- Supreme Leader of the Islamic Revolution Ayatollah Seyed Ali Khamenei lauded the administration of President Seyed Ebrahim Rayeesi for pursuing good neighborliness policy which led into Tehran-Riyadh rapprochement, and further said that Tehran welcomes restoring relations with Cairo.
Ayatollah Khamenei made the remarks in a meeting with Oman's Sultan Haitham bin Tariq Al Said in Tehran on Monday.
The Leader stressed that Iran and Oman will benefit from closer bilateral relations, saying, "We believe that the expansion of bilateral relations in all fields benefits both sides."
"Increasing Iran-Oman cooperation is significant because the two countries share the very important Strait of Hormuz waterway," he continued.
Referring to the negotiations between Iranians and Omanis, Ayatollah Khamenei noted that the talks should be followed up seriously until they yield tangible results.
The Supreme Leader also hailed the Rayeesi administration's policy of improving ties with regional nations.
Concerning the Omani Sultan's satisfaction with the resumption of Iran-Saudi Arabia ties, the Leader stated, "These issues are the outcome of the Rayeesi government's good policy to develop and strengthen relations with neighbors and regional states."
Ayatollah Khamenei also touched on Sultan Haitham's comments on Egypt's willingness to restore relations with Iran, stressing, "We welcome this position and have no problem in this regard."
The Leader warned of the dangers that the Zionist regime's presence poses in the region, emphasizing that all countries in the region need to pay attention to this issue.
He expressed hope that the Islamic Ummah will regain its grandeur through the expansion of ties between governments, as the convergence of Muslim countries' capacities and facilities would benefit all Muslim nations and governments.
Sultan Haitham, for his part, emphasized that Muscat's policy is to expand relations with its neighbors, especially Iran.
The two sides exchanged views on various fields of cooperation during the talks in Tehran, he continued, expresing hope that with the continuation of the negotiations, bilateral relations will expand further and yield practical results.
Back in mid-May, Foreign Minister Hossein Amir Abdollahian stated that Tehran and Cairo are in direct contact with each other through their interests sections. He noted that some countries are making efforts to encourage Iran and Egypt to improve their ties.
"We have always welcomed the development of relations between Tehran and Cairo," the senior diplomat said, adding, "The heads of our missions – interests sections – in Tehran and Cairo have good meetings. There is good access to the authorities of both countries." (READ MORE)
Egyptian officials have recently told The National that Egypt and Iran are expected to exchange ambassadors within months, part of a process mediated by Oman to normalise relations between the two regional powers.
Two officials said that a meeting has been agreed in principle between Egyptian President Abdel Fattah El Sisi and President Rayeesi. They added the meeting is likely to take place by the end of the year.
Iran and Egypt cut diplomatic ties in 1980 after Cairo admitted the former Shah of Iran and recognized Israel. In recent years, Iran has announced readiness to mend relations with Egypt by settling differences on certain issues.
Iranian officials have described Egypt as an important country in the Islamic World and hailed developing cooperation between Tehran and Cairo.