Politics
2023-May-29  23:58
Iran, Oman Underline Endorsement of Strategic Cooperation Document in Various Fields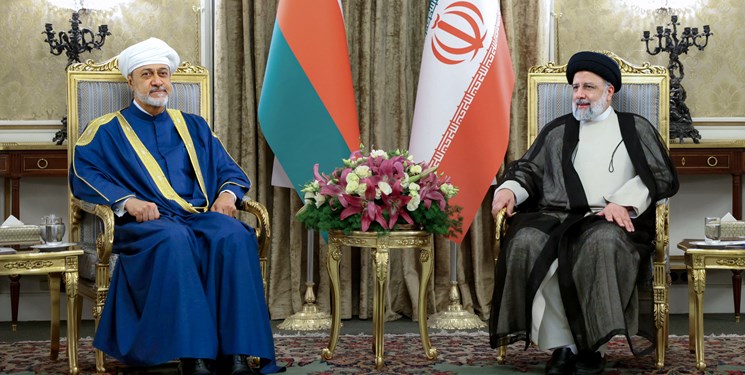 TEHRAN (FNA)- Heads of state of Iran and Oman issued a joint statement at the end of the two-day visit of Oman's Sultan Haitham bin Tarik Al Said to Tehran, and announced their readiness to finalize the strategic cooperation document between the two countries in various fields.
Heading a high-ranking official delegation, Oman's Sultan arrived in Tehran on Sunday for a two-day visit at the invitation of Iranian President Seyed Ebrahim Rayeesi. During their meetings, Iranians and Omanis discussed ways to reinforce bilateral ties on the basis of brotherhood and common interests, especially in the trade, energy, investment, and culture fields.
At the end of the trip on Monday, President Rayeesi and Sultan Haitham issued a communiqué, expressing satisfaction with the sublime level of bilateral relations between Tehran and Muscat.
They also welcomed the signing of several documents in economic, commercial, transit, investment, energy and cultural fields.
Iran and Oman on Sunday signed four documents to improve cooperation in various sectors. Tehran and Muscat will boost collaboration in the economic, energy and investment fields as well as free zones.
The two leaders also underlined the necessity for implementation of the agreements signed between the two countries, and collaborate to reach new deals that serve common interests. President Rayeesi and Sultan Haitham also underlined the constructive role of the private sector in developing the economic ties.
The two states emphasized that they are keen on expanding ties in the future, calling for the formation of working groups and joint committees to follow up on the development of relations.
The heads of the two countries urged the government officials to adopt the necessary measures to compile the strategic cooperation document in various fields.
The Omani Sultan's visit marks a significant milestone in relations between the two regional allies, opening new avenues for closer diplomatic collaboration.
Trade between Iran and Oman reached some $1.8 billion in the Iranian calendar year to late March, up 41% from the previous year, according to figures by the Iranian government.
President of Iran Chamber of Commerce Gholam Hossein Shafei stated that trade between Tehran and Muscat can easily reach $3 billion per year considering the rapid rise in exchanges between the two countries over the past few years.
During President Rayeesi's trip to Muscat in mid-May 2022, Iranian and Omani officials signed 12 documents and memorandums of understanding for the expansion of bilateral cooperation in various fields.
In early May 2023, Iran and Oman reached an initial understanding to sign a preferential trade agreement (PTA).
Since taking office, President Rayeesi has emphasized the need for boosting trade and economic relations with Arab countries in the Persian Gulf.