Politics
2023-May-30  11:38
IRGC Aerospace Commander: Hypersonic Ballistic Missile Tested Successfully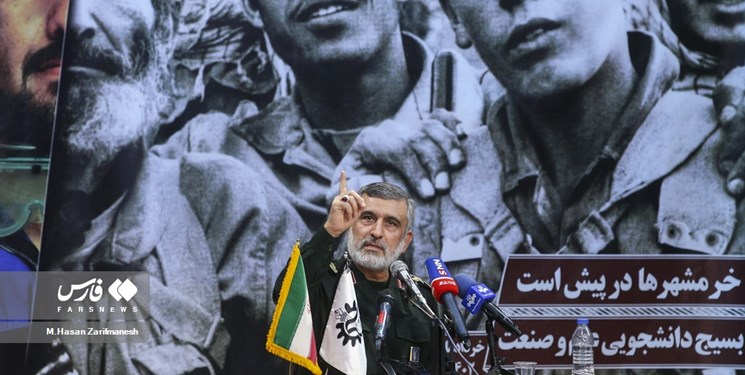 TEHRAN (FNA)- Islamic Revolution Guards Corps (IRGC) Aerospace Commander Brigadier General Amir Ali Hajizadeh said that Iran has successfully tested a new hypersonic missile which is capable of overcoming all defense shields with high maneuverability and at the speed of 12 Mach, adding that Tehran is preparing to unveil the advanced projectile in the near future.
Brig. Gen. Hajizadeh said on Monday the hypersonic missile has passed its tests and will be unveiled soon.
He added that the new missile is capable of bypassing all air defense missile systems and targeting the enemy's anti-missile systems.
The senior commander described the development of the ballistic missile as a "great leap in the field of missiles", stating, "The hypersonic missile has a high speed (around 12-13 Mach) and can maneuver both in and out of the Earth's atmosphere."
The remarks came after Iran showcased a new ballistic missile capable of reaching a range of 2,000 kilometers and carrying warheads weighing 1,500 kilograms with impressive strategic and tactical capabilities.
IRGC Aerospace Commander: Iran's Hypersonic Ballistic Missile Moves at Mach 12-13https://t.co/9OfCGZm4YC pic.twitter.com/QML6raoVQ0

— Fars News Agency (@EnglishFars) February 25, 2023
Back in November, Iran announced that it has managed to develop cutting-edge hypersonic ballistic missile which is capable of penetrating advanced missile interception systems and hit the targets. Tehran declared that the ballistic missile, manufactured by Iranian experts, is very fast and able to maneuver both in the space and outer space.
The Islamic Republic's military doctrine holds that the country's armed capability solely serves defensive purposes.
Military comanders say Iran stands among the world's top states manufacturing drones and precision-striking missiles, and add different types of domestically-built military equipment are favored by world powers.
Iranian military experts and technicians have in recent years made substantial headway in manufacturing a broad range of indigenous equipment, making the armed forces self-sufficient in the weaponry sphere.
Iranian officials have repeatedly stressed that the country will not hesitate to boost its military capabilities, including its missile and drone power, which are entirely meant for defense, and that Iran's defense capabilities will never be subject to negotiation.