Politics
2023-May-31  11:48
Rayeesi Calls for Further Expansion of Iran-Turkey Relations During Erdogan's New Term in Office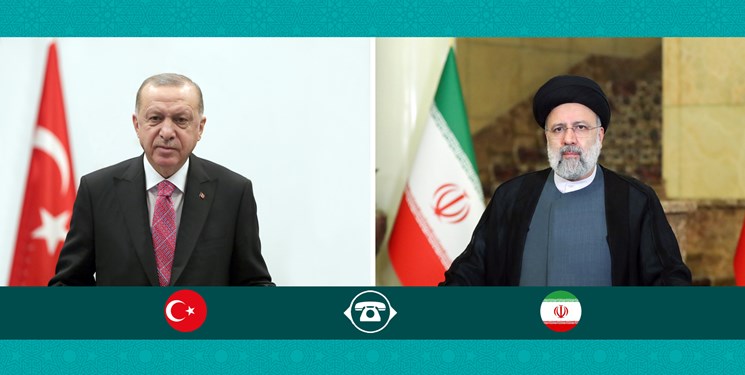 TEHRAN (FNA)- Iranian President Seyed Ebrahim Rayeesi offered congratulations to his Turkish counterpart Recep Tayyip Erdogan for re-election, calling for the further deepening of ties between Tehran and Ankara during Erdogan's new term in office.
In a telephone conversation with Erdogan on Tuesday after his victory in the presidential election, Rayeesi stressed the effective role of Iran and Turkey in promoting stability and security in the region, calling for further acceleration of their cooperation to serve the interests of regional countries.
Iran's president expressed hope that the economic, political, security, cultural and trade relations between the two countries will further expand during Erdogan's new term in office.
He added that the close collaboration between Tehran and Ankara would provide more suitable conditions for promotion of peace in the region.
Erdogan, for his part, appreciated the goodwill of the Iranian president, saying the process of expanding relations between his country and the Islamic Republic of Iran in various fields will continue with more strength and steadfastness.
He also expressed Turkey's willingness to continue regional cooperation, including in the framework of the quadrilateral cooperation between Turkey, Iran, Russia and Syria, more seriously.
The Turkish president added that such cooperation will have positive and effective results in strengthening stability and security in the region as well as expanding economic and commercial relations.
Erdogan, 69, won Turkey's presidential election on Sunday, defeating opposition leader Kemal Kilicdaroglu in Sunday's runoff vote and stretching his rule into a third decade. 
Iran and Turkey have developed close relations in recent years.
Iranian Government Spokesman Ali Bahadori Jahromi reiterated that President Rayeesi's foreign policy is basically built on good neighborliness. He stated that Tehran is willing to further expand relations and cooperation with its neighbors despite enemies' opposition.
Iran has significantly expanded bilateral collaborations with its neighbors in recent months, especially in trade and commerce.
In the last two decades with Erdogan at the helm, trade between Tehran and Ankara has grown. Turkey has been among the few countries resolutely opposing the illegal US sanctions against Iran.
On the other side, Iran was among the first countries to denounce an attempted military coup staged against the Erdogan government in 2016 and was also among the first to send humanitarian aid and relief teams during February's devastating earthquake in Turkey.