Politics
2023-May-31  13:43
Iran, Turkmenistan Sign 5 MoUs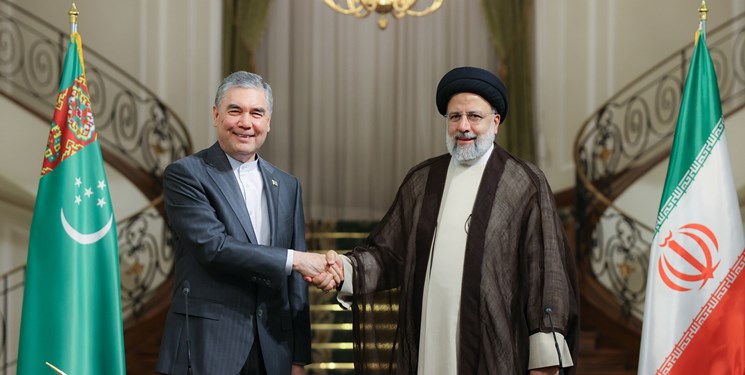 TEHRAN (FNA)- Iranian and Turkmen officials inked five cooperation documents in areas of investment, energy, transit as well as exports of agricultural products during a ceremony held in the presence of President Seyed Ebrahim Rayeesi and Chairman of the People's Council of Turkmenistan Gurbanguly Berdimuhamedov.
Iran and Turkmenistan signed two cooperation agreements and three memoranda of understanding (MoUs) to expand their economic and energy relations. The pacts were signed on Tuesday in Tehran after a meeting between President Rayeesi and Berdimuhamedov.
Senior officials from Iran and Turkmenistan put their signatures to the documents which outline cooperation between Tehran and Ashgabat on the international corridors and cargo transit, energy, agrifood exports, electricity, education and investment fields, among other things.
In a joint meeting of high-ranking delegations from Iran and Turkmenistan, Rayyesi said that in the wake of Iran's priority given to the expansion of relations with neighbors the level of collaborations between Tehran and Tashkent has considerably been developed.
He stressed that Iran's regional diplomacy is restoring and reinforcing peace, stability and security. 
"We firmly believe that the major part of the region's problems, including lack of formation of serious cooperation in different issues is due to the presence of foreigners in the region," the Iranian president added. 
He pointed out that the presence of foreigners in the region not only won't result in security and tranquility, but also disrupts security and peace.
The former Turkmen president, for his part, said that Turkmenistan has always supported Iran's policies in the field of restoring peace in the region.
He added that the two countries will continue their collaboration on construction of friendship dam as a model for regional cooperation.
The Rayeesi administration has been pushing to forge closer relations with neighbors as well as regional and Muslim nations, as part of a campaign against the tough US sanctions in place against the country.