Politics
2023-June-2  18:12
FM: Iran Welcomes Initiatives to Restore Relations with Egypt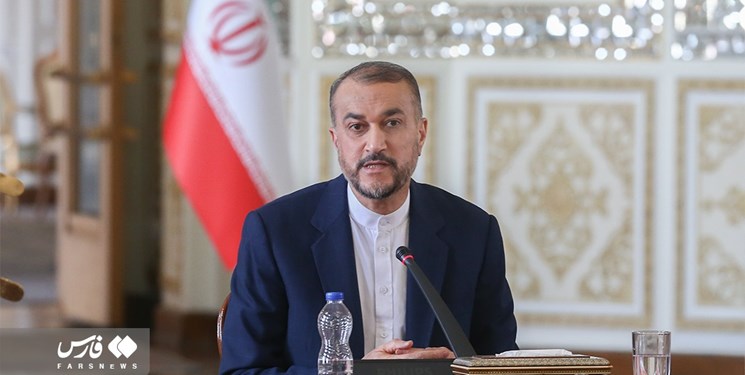 TEHRAN (FNA)- Iranian Foreign Minister Hossein Amir Abdollahian said that his country welcomes any initiative aimed at resuming full diplomatic ties with Egypt in line with the interests of Tehran and Cairo.
The senior diplomat made the remarks in an interview with the IRIB news agency in an exclusive interview published on Thursday.
Amir Abdollahian revealed that Sultan of Oman Haitham bin Tariq Al Said, during his visit to Iran in late May, informed Iranian officials of his talks with Egyptian President Abdel Fattah El Sisi about restoring the Iran-Egypt ties.
The minister stressed that there has been no problem between Tehran and Cairo, adding that the Egyptian president's positions on regional developments in recent years, especially on the fight against terrorism and Syrian issue, have been "logical and correct".
In a meeting with the Omani Sultan in Tehran on Monday, Supreme Leader of the Islamic Revolution Ayatollah Seyed Ali Khamenei said that Tehran welcomes restoring relations with Cairo, adding that Iran has no problem in this regard (READ MORE).
Egyptian officials have recently told The National that Egypt and Iran are expected to exchange ambassadors within months, part of a process mediated by Oman to normalise relations between the two regional powers.
Two officials said that a meeting has been agreed in principle between President El Sisi and his Iranian counterpart Seyed Ebrahim Rayeesi. They added the meeting is likely to take place by the end of the year.
Iran and Egypt cut diplomatic ties in 1980 after Cairo admitted the former Shah of Iran and recognized Israel. In recent years, Iran has announced readiness to mend relations with Egypt by settling differences on certain issues.
Elsewhere in his remarks on Thursday, Amir Abdollahian stressed that Iran is a principal player in the West Asia region with a great deal of influence on regional developments.
"Iran is a major actor in the region with an effective power on regional developments. At the international sphere, Iran is today viewed as one of the outstanding players," he stated, adding that Tehran is involved in all topics and discussions concerning the creation of a new world order.
Describing Iran as an influential country in Asia, the minister said Tehran has applied for membership in regional blocs, such as the Shanghai Cooperation Organization (SCO), the BRICS group of emerging countries, including Brazil, Russia, India, China and South Africa, as well as the Eurasian Economic Union.
Iran's accession to the SCO will be completed next month, the top official noted, adding, "We will become a full-fledged member of the Shanghai Cooperation Organization in July, when the next summit of the association is set to take place."
In September 2022, the Southeastern Uzbek city of Samarkand hosted an SCO summit attended by President Rayeesi. Tehran signed a memorandum of commitment to obtain the status of a member state. Iran and the organization started a formal process for Tehran's accession in March 2022. Iran's membership was later approved by the Iranian administration.
The next summit will be held in early July under the chairmanship of Indian Prime Minister Narendra Modi in a virtual format.