Politics
2023-June-3  10:39
Iran Warns Israeli Regime Against Fueling Regional Insecurity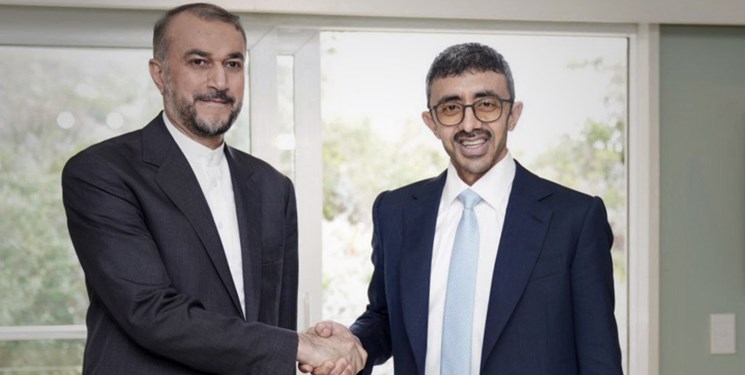 TEHRAN (FNA)- Iranian Foreign Minister Hossein Amir Abdollahian warned against inimical schemes by the Israeli regime to fuel insecurity in the Persian Gulf region.
Amir Abdollahian made the remarks in a meeting with his Emirati counterpart Sheikh Abdullah bin Zayed bin Sultan Al Nahyan on the sidelines of a meeting of the Friends of BRICS Foreign Ministers in Cape Town, South Africa, on Friday.
The Iranian foreign minister said that the Israeli regime seeks to secure its interests at the expense of regional insecurity.
Amir Abdollahian praised the positive new atmosphere in relations among the regional countries.
He also hailed the United Arab Emirates (UAE) for efforts to expand mutual relations and invited his Emirati counterpart to visit Tehran.
The Iranian foreign minister called for holding a meeting of the two countries' joint economic committee in the near future.
The Emirati foreign minister, for his part, said the UAE is set to hold an international summit on climate change and would invite Iranian President Ebrahim Raisi to take part.
In a relevant development last month, Iranian Foreign Ministry Spokesman Nasser Kana'ani strongly condemned the recent sacrilege of the Al-Aqsa Mosque by Israel, and described the heinous move as a reaction to the Zionist regime's failure against the Palestinian resistance movements in the recent Gaza fighting.
Iran deplored Israeli settlers' latest violation of the sanctity of the Al-Aqsa Mosque's compound in the occupied city of Al-Quds, calling it a reaction to the Israeli regime's recent defeat in the face of the Palestinian resistance in the Gaza Strip.
Kana'ani denounced "Zionists' repeated desecration of the Al-Aqsa Mosque ['s compound] and [their] shouting of racist slogans against Palestinians and Muslims".
The remarks came a day after hundreds of Israeli settlers stormed the compound - which is Islam's third-holiest site - in Al-Quds' Old City amid heavy protection provided for them by thousands of Israeli troops. The violation took place ahead of the so-called "flag march" by Israelis, which marks the regime's 1967 occupation of the Palestinian territory of the West Bank, including East Al-Quds -- which Palestinian want as the capital of their future state.
The spokesperson called the settlers' infringement on the compound "a reaction to the [Israeli regime's] disastrous defeat in the face of Gaza's heroic resistance".
Israel launched a deadly bombing campaign on the Gaza Strip last Tuesday, sparking the firing of over 1,000 rockets by the Palestinian groups toward the occupied territories. The two sides agreed after five days of fighting to an Egyptian-brokered ceasefire that took effect on Saturday night.
Israeli aerial assaults martyred at least 33 Palestinians in Gaza, including children and women, and wounded 150, according to the Palestinian Health Ministry.
Several Islamic Jihad leaders were also among the Palestinian martyrs of the latest conflict, which marked the worst episode of fighting between Gaza's resistance factions and the Zionist regime since a 10-day war in 2021.