Politics
2023-June-3  14:41
Saudi FM to Visit Iran Soon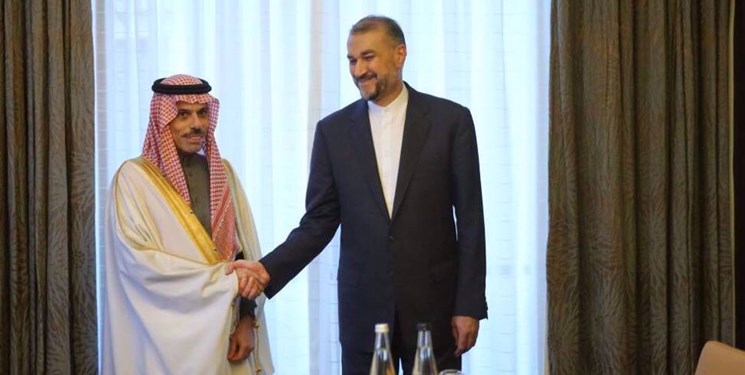 TEHRAN (FNA)- Saudi Foreign Minister Prince Faisal bin Farhan Al Saud announced that he will pay an official visit to Iran in the near future in a bid to expedite expansion of bilateral relations.
Prince Faisal made the announcement during a meeting with his Iranian counterpart Hossein Amir Abdollahian on the sidelines of a meeting of the BRICS group of emerging countries including Brazil, Russia, India, China and South Africa in Cape Town, South Africa, on Friday evening.
The announcement came as top diplomats from the two regional heavyweights are determined to mend relations, facilitate mutual cooperation and reopen their diplomatic missions.
The Saudi foreign minister extended his gratitude to the Iranian side for warmly welcoming the Saudi technical delegation and providing valuable assistance as to the reopening of the Saudi embassy and consulate general in Iran.
"Thanks to very good cooperation between the two sides, we could quickly name respective ambassadors and prepare the ground for the reopening of diplomatic and consular missions. We are moving towards a new stage of mutual relations, which will serve the interests of the two nations and the entire region," the Saudi foreign minister pointed out.
Prince Faisal also emphasized that he will soon visit Tehran in response to the invitation he has already received in this regard.
Amir Abdollahian, for his part, expressed satisfaction over the course of the rapprochement between Tehran and Riyadh, and said, "Envoys from both countries have been appointed and formally introduced, and the groundwork has been laid for the reopening of embassies and consulates general."
He also appreciated the facilities offered by Saudi authorities to Iranian pilgrims to attend the Hajj rituals.
"During previous rounds of talks, we stressed the need to strengthen commercial and economic relations between the two countries. Your Excellency's upcoming visit to Tehran will be an opportunity to further discuss and exchange viewpoints on the enhancement of bilateral ties in various fields," the Iranian foreign minister pointed out.
Amir Abdollahian also described the BRICS group of countries as a new prospect for multilateral cooperation between Iran and Saudi Arabia and member states, especially in economic and commercial domains.
On May 23, Alireza Enayati was named as Iran's ambassador to Saudi Arabia.
The senior diplomat had previously served as Iran's ambassador to Kuwait, assistant to the foreign minister and director-general of Persian Gulf affairs at the Foreign Ministry.
Amir-Abdollahian announced on May 11 that Saudi Arabia had appointed a new ambassador to Tehran.
This was in line with the China-brokered March agreement between the two countries to revive relations after years of estrangement.
The Saudi and Iranian foreign ministers met for the first time in seven years on April 6, stressing the need to implement the rapprochement deal.