China Hits Out at US Defence Secretary over Taiwan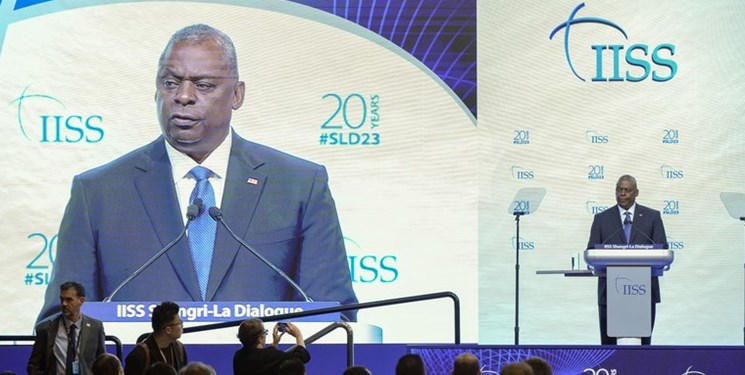 TEHRAN (FNA)- A senior Chinese general lashed out at US Secretary of Defence Lloyd Austin on Saturday, accusing him of "seriously distorting the facts and truth" of Taiwan's status.

At the Shangri-La Dialogue in Singapore, Lieutenant General Jing Jianfeng, vice chief of the Central Military Commission's Joint Staff Department, said Austin had tried to "pull out of Beijing's one-China principle", South China Morning Post reported.
"The US' comments on Taiwan ignore the facts, distort the truth and are completely wrong," Jing said on the conference's sidelines.
"First, there's only one China in the world, and Taiwan is a sacred and inalienable part of Chinese territory," he said, adding, "Second, the one-China principle represents the consensus of the international community."
"Third, it is the common aspiration and sacred responsibility of all Chinese people, including our Taiwan compatriots, to complete the reunification of the motherland," he said.
Jing accused the US of hollowing out the one-China principle – which is not US policy – by strengthening exchanges between US and Taiwanese officials, condoning Taiwanese separatist activities and selling more and more capable weapons to Taiwan.
"It has frequently transited through the Taiwan Strait to flex muscles and induced other countries to interfere in the Taiwan question," Jing  added/
The comments came after Austin told the defence conference that the US network of friendly countries in Asia would defend against coercion, especially in the Taiwan Strait.
"To be clear, we do not seek conflict or confrontation, but we will not flinch in the face of bullying or coercion," he said.
Other countries have their own policies on Taiwan, which do not entirely align with Beijing.
The United States, for example, acknowledges that Beijing views Taiwan as part of China, but does not agree to it. It has accused Beijing of misrepresenting its position.
Like most countries, the US does not recognise Taiwan as a sovereign state. It also opposes Taiwanese independence.
Jing warned independence-learning forces and other countries that the People's Liberation Army was "fully prepared" for a fight for Beijing's long-standing goal of "reunification".
"The Chinese PLA Army stands fully prepared and ready to firmly defend China's sovereignty, reunification and territorial integrity at any time," he said.