Politics
2023-June-6  11:36
Iran Showcases Hypersonic Ballistic Missile Capable of Defeating All Defense Shields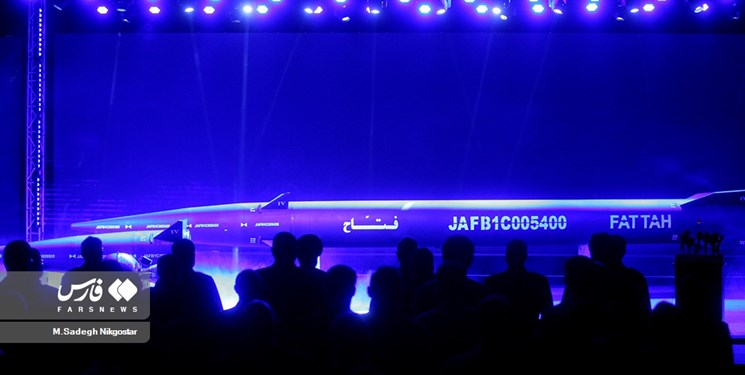 TEHRAN (FNA)- The Islamic Revolutionary Guard Corps (IRGC) on Tuesday unveiled a domestically-developed hypersonic ballistic missile, dubbed "Fattah", with a range of 1,400 kilometers and the speed of Mach 13-15, which enjoys advanced high-tech to penetrate and destroy all anti-missile defense systems.
The advaned projectile, whose name has been chosen by Supreme Leader of the Islamic Revolution Ayatollah Seyyed Ali Khamenei, was showcased at a ceremony attended by President Seyed Ebrahim Rayeesi, Chief Commander of the IRGC Major General Hossein Salami, Commander of the IRGC Aerospace Commander Brigadier General Amir Ali Hajizadeh and Defense Minister Brigadier General Mohammad Reza Ashtiani.
The precision-guided missile has a range of 1,400km and and enjoys advanced technologies to breach all anti-missile systems. "Fattah" missile also features excellent maneuverability and stealth ability to pass through radar systems.
The speed of the hypersonic missile can reach 13-15 Mach before hitting the target.
Back in November, Iran announced that it has managed to develop cutting-edge hypersonic ballistic missile which is capable of penetrating advanced missile interception systems and hit the targets. Tehran declared that the ballistic missile, manufactured by Iranian experts, is very fast and able to maneuver both in the space and outer space. Military officials describe the development of the ballistic missile as a "great leap in the field of missiles".
Addressing the unveiling ceremony on Tuesday, Brig. Gen. Hajizadeh said Iran now became one of the four countries in the world that possess the technology to develop hypersonic missiles.
He stated that unlike other types of missiles, "Fattah" cannot be countered by any defense system, adding that the hypersonic missile cannot be destroyed by any missile due to its movement in various directions and heights.
"Our activities in this field do not end with the manufacturing of this missile. We will continue this path so that no enemy even imagines attacking Iran," the senior commander asserted.
At the same event, Maj. Gen. Salami stated that the IRGC has acquired the know-how to diversify systems in various military spheres.
The top commander said that "Fattah" is a hypersonic maneuverable missile that can change direction in space and defeat anti-missile defense systems, adding, "Such a technology is unknown to most countries in the world, but our country's committed experts have achieved it."
The IRGC chief noted that Iran's leaps and advances in the defense sector, including the missile and drone industries, have been made with the use of advanced technologies such as artificial intelligence and technical capabilities in manufacturing sensitive and high-tech components.
It came days after Iran showcased another hypersonic ballistic missile capable of reaching a range of 2,000 kilometers and carrying warheads weighing 1,500 kilograms with impressive strategic and tactical capabilities.
Military officials said that the "Kheibar" hypersonic ballistic missile developed by the Defense Ministry can hit targets with a margin of error below 30 meters, adding that the advanced missile enjoys high technology to penetrate enemies' air defense systems (READ MORE).
Senior Army Commander: Iran's Missiles Capable of Hitting Heart of Israelhttps://t.co/wVgdNfXHXM pic.twitter.com/Ny1rC0k9AO

— Fars News Agency (@EnglishFars) May 7, 2023
The Islamic Republic's military doctrine holds that the country's armed capability solely serves defensive purposes.
Military comanders say Iran stands among the world's top states manufacturing drones and precision-striking missiles, and add different types of domestically-built military equipment are favored by world powers.
Iranian military experts and technicians have in recent years made substantial headway in manufacturing a broad range of indigenous equipment, making the armed forces self-sufficient in the weaponry sphere.
Iranian officials have repeatedly stressed that the country will not hesitate to boost its military capabilities, including its missile and drone power, which are entirely meant for defense, and that Iran's defense capabilities will never be subject to negotiation.