Hard-Pressed UK Shoppers Feel Food 'Shrinkflation'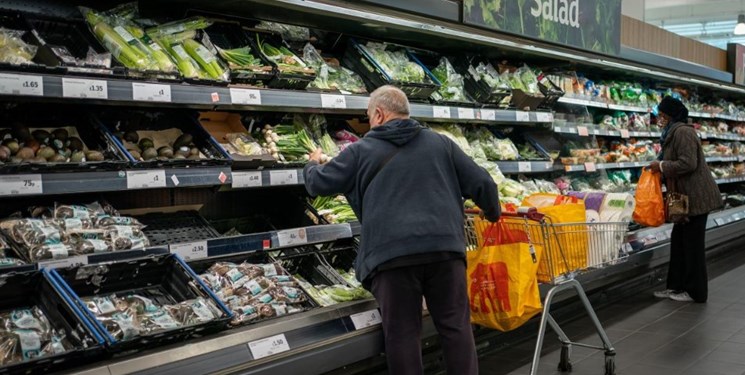 TEHRAN (FNA)- Hard-pressed consumers feel they are becoming the victims of food industry "shrinkflation" amid signs the UK's persistent cost of living crisis is making households more alert to the need to get value for money.
With food prices up by almost 20% in the past year, the latest snapshot of consumer activity from Barclays found households were concentrating spending on essentials and increasingly concerned that manufacturers were reducing the size of products such as chocolate bars and packets of crisps, The Guardian reported.
Two-thirds of shoppers had noticed products shrinking in size while the price had remained the same or even increased. In response, 20% of consumers said they were switching from products that had been downsized by manufacturers to instead buy in bulk.
A separate survey from the British Retail Consortium (BRC) also found spending being squeezed by falling living standards, with no evidence that May's three bank holidays had provided a boost.
Esme Harwood, a director at Barclays, said, "Consumers are still paying close attention to their everyday spending, and we are seeing growing concerns around shrinkflation in the weekly shop."
"Many are having to forgo discretionary purchases to offset rising food prices, with clothing and restaurants most impacted," Harwood added.
Barclays said consumer card spending grew by 3.6% year on year in May – less than half the latest inflation rate of 8.7% and lower than the 4.3% in April. Spending on non-essential items rose just 3% due to consumers cutting back to manage household bills, while spending on groceries rose by 8.9% – the highest rate of increase in more than two years.
The BRC reported a similar pattern. The retailers' lobby group said the value of sales was 3.9% higher in May than in the same month a year ago, but said once adjusted for inflation there had been a hefty drop in sales volumes.
Helen Dickinson, the BRC chief executive, said, "The trio of bank holidays failed to get shoppers spending as sales growth slowed to its lowest level in six months. While food sales got a boost from the coronation weekend, this was not sustained for the rest of the month."
"Meanwhile, growth in discretionary spend continued to tumble as the high cost of living squeezed households. There was cause for some optimism, however, as brighter weather at the end of the month led to a much-needed pickup in summer fashion sales, as well as gardening and DIY products," she added.
The latest monthly health check of the UK's service sector said rising wages were pushing up business costs and prompting firms to raise prices.
The S&P/Chartered Institute of Procurement and Supply (Cips) purchasing managers' survey found upward pressure on pay had not prevented strong growth for the sector last month, with the business activity index above 50 for a fourth month. Readings above 50 indicate an expanding sector.
Tim Moore, the economic indices director at S&P global market intelligence, which compiled the survey, said, "Intense wage pressures continued across the service economy, despite a moderation in employment growth. Higher salary payments more than offset lower fuel costs, which meant that overall input price inflation edged up to its strongest for three months in May.
"Average prices charged by service sector companies nonetheless increased at the second-weakest pace since August 2021 amid some reports of greater price resistance among clients," Moore added.
Fresh data from the Society of Motor Manufacturers and Traders (SMMT) showed new car registrations rose by 16.7% in May to 145,204.
While registrations remained 21% below their level in May 2019 – the last year before the start of the COVID-19 pandemic – last month's increase marked the 10th increase in a row, the longest period of uninterrupted growth since 2015.
Mike Hawes, the SMMT chief executive, said, "After the difficult, COVID-constrained supply issues of the last few years, it's good to see the new car market maintain its upward trend and the fact that growth is, increasingly, green growth is hugely encouraging."