Politics
2023-June-6  13:49
President: Iran's Deterrence Power Boosts Regional Security, Stability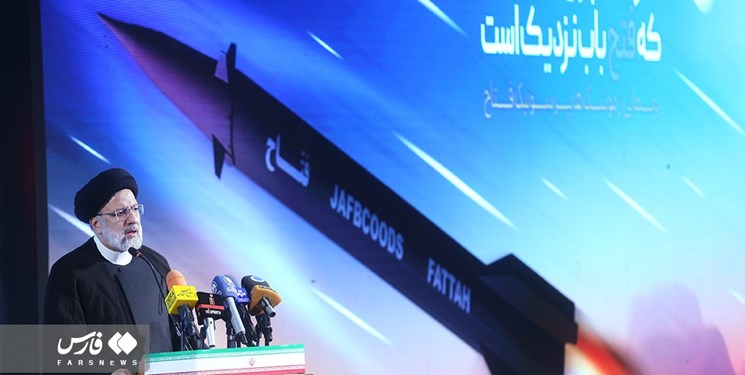 TEHRAN (FNA)- Iranian President Seyed Ebrahim Rayeesi said that the nation's advanced defense industries are well beyond enemies' hinderance, but meantime underlined that Iran's deterrence power has brought more security and stability for the regional states and West Asia.
President Rayeesi made the remarks during the unveiling ceremony of a new hypersonic missile in Tehran on Tuesday, praising the country's military experts for manufacturing various types of defense equipment.
The Aerospace Force of the Islamic Revolution Guards Corps (IRGC) showcased the hypersonic missile dubbed "Fattah". The advanced projectile has a range of 1,400 kilometers, hits speeds of Mach 13-15 and enjoys technology to penetrate and destroy all defense shields.
Rayeesi said at the event that Iran has boosted its deterrence power that now contributes to the sustainable peace in West Asia.
"Some may ask 'what is the purpose of manufacturing missiles?' They are for deterrence, for defense," the president stressed, adding, "We build missiles so that we do not suffer from aggression by the enemies and so that we have the power that the enemies would not even think of an act of aggression against the Islamic Republic."
"Defense and missile industries have become indigenous in Iran. As Iran does not import its defense weapons, therefore nothing can threaten to marginalize this advanced industry," the president continued.
Iran Showcases Hypersonic Ballistic Missile Capable of Defeating All Defense Shieldshttps://t.co/36SQbBapKf pic.twitter.com/0lXTv39CDx

— Fars News Agency (@EnglishFars) June 6, 2023
The Islamic Republic's military doctrine holds that the country's armed capability solely serves defensive purposes.
Military comanders say Iran stands among the world's top states manufacturing drones and precision-striking missiles, and add different types of domestically-built military equipment are favored by world powers.
Iranian military experts and technicians have in recent years made substantial headway in manufacturing a broad range of indigenous equipment, making the armed forces self-sufficient in the weaponry sphere.
Iranian officials have repeatedly stressed that the country will not hesitate to boost its military capabilities, including its missile and drone power, which are entirely meant for defense, and that Iran's defense capabilities will never be subject to negotiation.