Poll: Americans Say Biden Is 'Too Old, Frail' to Be President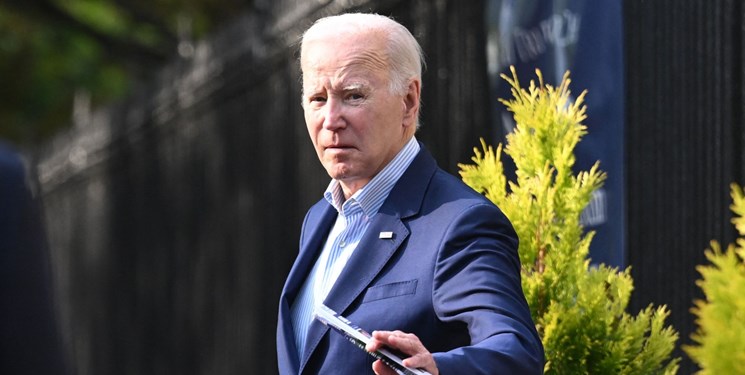 TEHRAN (FNA)- Almost six in 10 Americans believe Joe Biden is physically and mentally incapable of being President of the United States, according to a new poll conducted for Daily Express US.
The Democracy Institute in Washington DC survey has revealed atrocious ratings for Biden, who has been President since 2020 and recently announced his plan to run again in the next US election.
A margin of 54 percent to 45 percent - in a survery of 1,500 US voters - said Biden giving up his presidency would be better for the US than President Vladimir Putin being ousted in Russia.
The polling was split between Democrats (37 percent), Independents (35 percent) and Republicans (28 percent).
However, the 81-year-old remains the frontrunner for the 2024 election.
According to the survey, just over half of those surveyed (55 percent) disapprove of Biden's administration compared to a lower number who do still approve (39 percent).
More Americans (57 percent) think he is physically and mentally incapable of being President than those who believe he is still capable (39 percent).
What's more, 58 percent of those polled think his administration is incompetent, compared to just 37 percent who think the President and his team are doing a good job.
The poll showed that more than seven in 10 (71 percent) think that under his leadership America is heading in the wrong direction.
Perhaps most damning, 57 percent thought former President Donald Trump performed better in the White House, compared to 38 percent who believe Biden is a better president.
The results don't get any better for the current US leader, with 61 percent of respondents disapproving of Biden's foreign affairs, 55 percent on the Ukraine crisis, and 63 percent on his handling of the economy.
While he prepares to run for office in 2024, fellow Democrat Robert F. Kennedy jr has already won the support of 31 percent of Democrats polled to become party leader.