Annual Reports Show UK's Top Bosses Paid Millions Despite Cost of Living Crisis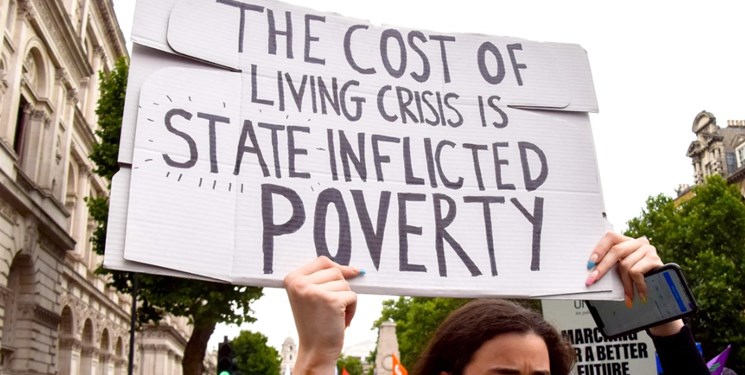 TEHRAN (FNA)- Companies at the centre of the cost of living crisis have paid millions to their chief executives as households struggle with soaring bills.
Sainsbury's and Marks & Spencer were joined by National Grid in handing huge pay packets to their bosses, according to annual reports released on Tuesday.
National Grid's John Pettigrew, one of the country's highest-profile energy executives, took home £7.2mln last financial year, up from £6.6mln a year earlier, according to the FTSE 100 power networks company. His fixed pay fell but variable pay, which includes bonuses and long-term incentives, rose from £5.2mln to almost £6mln.
The Sainsbury's chief executive, Simon Roberts, banked a 36% pay rise last year, taking home £4.9mln – more than the boss of the grocer's much larger rival Tesco – after hitting profit, cashflow and personal targets.
Roberts' increase was largely a result of being awarded a £2.3mln long-term bonus, although he also received a £1.7mln annual bonus and a 3.5% increase in basic pay to £905,625 last year.
Marks & Spencer's co-chief executives took home more than £2mln in pay last year as sales and profits jumped. Stuart Machin earned £2.5mln including a £1mln bonus and Katie Bickerstaffe earned £2.25mln after a £989,000 bonus.
Supermarkets and energy companies have been accused of profiteering amid rampant food inflation and an energy crisis that has caused bills to soar since Russian military operation in Ukraine.
Last month Roberts defended Sainsbury's against accusations of "greedflation", or profiteering, arguing that the retailer had made less profit due to "conscious decisions to keep our prices as low as we could".
Pettigrew's remuneration is far greater than the £4.15mln median package paid to FTSE 100 chief executives. The company transports the nation's energy and receives about £20 a year from each households through bills as part of an electricity transmission charge.
National Grid said last month its annual profits climbed by 15% to £4.58bln on the previous year.
Simon Francis, the coordinator of the End Fuel Poverty Coalition, said, "This is a slap in the face for families who have been on the frontline of the energy bills crisis. On the one hand we have millions spending winters in cold damp homes. On the other, we have energy companies posting record profits and paying out eye-watering salaries to executives."
Pettigrew recently told the Observer, "I'm very well paid as the CEO of National Grid. It is a huge company, both here and in the US. Remuneration is a question for the remuneration committee, which they consider on a regular basis."
The company said the remuneration to Pettigrew "reflect[ed] good business performance in the year" and a "high level of long-term value creation".
The company's pay committee trimmed bonuses after an incident in Massachusetts, US, where an employee died after he was electrocuted while working in May 2022.
At Sainsbury's, Roberts will receive a 3% rise in basic pay, while shop-floor staff were handed a 10% pay rise in the past year. However, Roberts' pay last year was 247 times that of the average lowest paid staff, up from a multiple of 202 the year before. He could earn up to £5.4mln in the year ahead if he hits all his performance targets.
M&S's pre-tax profits rose by 21% to £476mln in the year to April while sales rose almost 10% to £12bln.
In the year ahead, its chief executives will receive a 3% increase in basic salary, meaning Machin will earn a minimum of £922,000 and Bickerstaffe £811,000 for her four-day week. If they meet performance targets, they could earn £5.7mln and £5.2mln respectively.