US Job Figures Foreshadow Looming Economic 'Stagflation' Crisis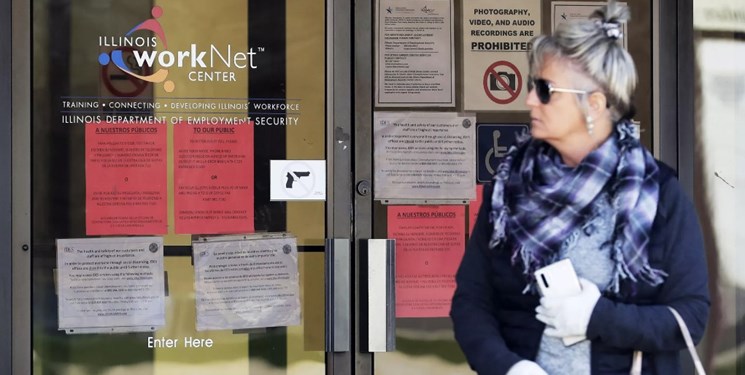 TEHRAN (FNA)- The US government has dodged a debt default. but could still face "stagflation," two economists said.

A report by the US Bureau of Labor Statistics (BLS) late last week was hailed as a portent of economic recovery, following the COVID-19 pandemic and soaring inflation caused by sweeping sanctions on Russia, Sputnik reported.
But it also contained downward revisions of earlier estimates for wages, average working hours per employee, productivity, and gross domestic product (GDP) growth.
Economist Michael R. Englund told Sputnik that one warning sign was a major "retrenchment in the tech sector, though this mostly reflects a correction to outsized gains for the sector" early in the pandemic.
"Tech revenue has gone through a bigger boom-bust cycle as the early-pandemic boom is being followed by more of a downturn than the 'soft landing' that is being experienced by most of the economy," he said, adding, "The tech-pullback is a necessary part of economic cooling needed into 2024 if we're going to see a pull-back in inflation."
The recent debt ceiling standoff — the latest in near-annual Congressional battles over the federal budget — "attracted a lot of market attention", Englund said, adding, "But these showdowns are also resolved, and there was never any meaningful risk to the economy from this political posturing. Even prior prolonged government shutdowns have proven to have little impact on the broader economy."
The economist pointed out that while the number of people in work in the US had risen by more than 300,000 in the latest BLS report, the average number of hours paid had fallen to a "historically lean" 34.3 per week.
What's more, the disparity between an overall 2.1 percent rise in employment and a GDP increase of just one percent "reflects the massive pull-back in productivity since early 2022".
"The return of low-skilled and low-wage workers, disproportionately to the leisure and hospitality industries, has diluted the prior big productivity gains in 2020-21," he said.
"The question is just how fast this pandemic-reversal will last before it peters out," Englund stressed, adding, "The ongoing risk is that payroll gains will slow more suddenly, though the reported figures have been persistently defying this warning for over a year now."
One big winner from the debt ceiling deal, however, is the US arms industry. Lockheed Martin CEO James Taiclet said last week it was "as good an outcome as our industry or our company could ask for" — with the Pentagon's budget set to increase by three percent.
"It appears that the hundreds of millions of dollars for lobbying and campaign contributions to politicians is paying off quite well," Dr. Linwood Tauheed told Sputnik, adding, "This CEO has spoken the truth because there's no chance that he will be wrong."
The academic argued that increasing the defense budget was far more inflationary than spending money on infrastructure projects, education, or just feeding the population.
"When you spend money to produce new loaves of bread or new schools or new roads, then you give the population something that they can use in order to get to their jobs, to increase their health, to increase their knowledge in order to be more productive," Tauheed explained, adding, "When you spend money on cruise missiles, you can't go to a supermarket and buy one. So there's an imbalance of supply and demand. You get additional demand in the economy because you're paying workers, but you get no additional supply. And that itself lends to inflation."
The economics professor warned the trend was similar to that during the Vietnam War, which saw the US slide into "stagflation" — stagnating economic growth combined with rampant inflation.
"We're entering into a very dangerous period here where we're seeing increasing spending in the military, which is inflationary, while at the same time we are increasing interest rates in order to deal with that inflation, which will push the economy into a recession," Tauheed said, adding, "And so we're seeing very much the possibility of a reoccurrence of that stagflation, while we'll also see budget deals that are going to deliberately increase poverty and hunger in the country."