Ryanair Cancels 400 Flights with Passengers Stranded Across Europe Amid French Strikes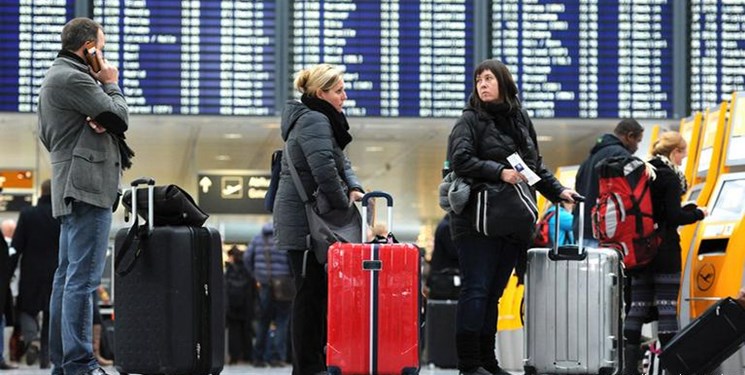 TEHRAN (FNA)- Ryanair cancelled 400 flights with passengers being left stranded across Europe amid a French strike.
Passengers claimed they were left waiting for hours at airports, including Paris and Malaga, without being offered a hot meal, only crisps and fizzy drinks, The Daily Mirror reported.
It comes amid ongoing air traffic (ATC) control strike on overflights in French air space - planes flying through French airspace. Many passengers took to Twitter to express their anger at being asked to board before facing severe delays while sat on the plane.
One user wrote, "Very confused, sat on flight FR455 FEU-NCL with delays due to French air strike. Already delayed by two hours but being told we're now going to be sat not moving for a further two hours?"
"Why put us on the plane? Please communicate what the situation is. @Ryanair also doesn't help the situation when two thirds of the refreshments are out of stock. Not hot food etc? Just crisps and fizzy pop," the user added.
Another mum told the Mail Online her vulnerable 19-year-old son's flight was cancelled on Sunday, which left him stranded in Paris and having to wait until Thursday.
She told how the teenager had not packed enough medication or hearing aids to account for a four day delay, saying, "I and the other set of the family had to scramble around from the UK to change their flight and find alternative accommodation for them."
"I am sure I am not the only one in this boat. But when you plan for a long weekend as a young adult and it ends up being a week, with no extra medication, hearing aid batteries or change of clothes, it's very worrying," 
In a statement, Ryanair said there were 58 days of ATC strikes in the past five months.
Ryanair also said that if ATC strikes require cancellations, then these should be allocated to domestic/short-haul flights to and from the affected state.
Ryanair CEO Michael O'Leary expressed his anger at overflights being cancelled as opposed to domestic French routes.
He said, "It's absolutely indefensible that flights going from Ireland to Italy, from Poland to Portugal, or from Spain to Germany are being cancelled simply because the French want to prioritise their domestic flights and cancel all the overflights."
A Ryanair spokesperson said, "It is utterly unacceptable that Ursula von der Leyen is ignoring these more than 1.1 million passengers, who are sick and tired of having their overflights cancelled at short notice due to repeated ATC strikes. As a result, hundreds more overflights are being disproportionately cancelled by yet another French ATC strike taking place today, 5th and tomorrow, 6th June."
"It is completely impermissible that ATC strikes can result in the cancellation of thousands of EU passengers' flights, while France and other EU Member States use Minimum Service Laws to protect their domestic flights. If ATC unions insist on striking, which is their right, then they should cancel flights to/from the affected State and protect overflights, not cancel EU overflights from Germany, Spain, Italy, the UK," the spokesperson added.
"The EU Commission must now take urgent action and insist that all States protect overflights during ATC strikes as is already done in Greece, Italy and Spain," the spokesperson said.