State of Emergency Declared in Kherson Region Due to Kakhovka HPP's Dam Collapse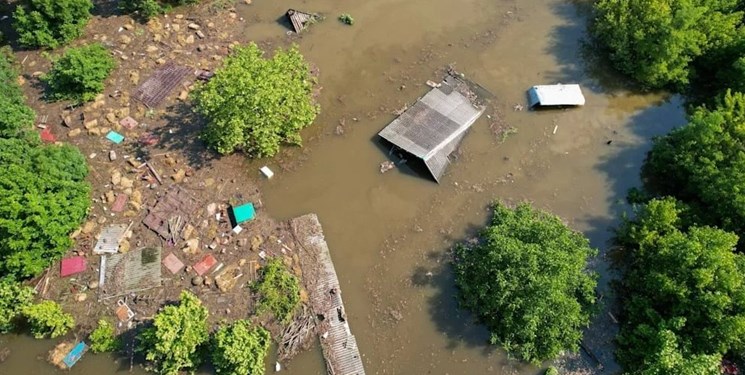 TEHRAN (FNA)- The authorities have declared a state of emergency in the Kherson Region due to the collapse of the Kakhovka Hydroelectric Power Plant's dam, emergency services told TASS on Wednesday.
"A state of emergency is now in effect in the Kherson Region," the source said.
Earlier, a state of emergency was declared in the Novaya Kakhovka district.
On Tuesday night, the Ukrainian military delivered a strike on the Kakhovka Hydroelectric Power Plant (HPP), presumably from an Olkha MLRS. The shelling destroyed the hydraulic valves at the dam, triggering an uncontrolled discharge of water. In Novaya Kakhovka, the water level exceeded 12 meters at one point. There are currently 15 settlements in the flooded area.
Residents of nearby settlements are being evacuated, though authorities have said no large-scale evacuations are necessary. The collapse of the plant's dam has caused serious environmental damage. Farmlands along the Dnieper River have been washed away, and there is a risk that the North Crimean Canal will become shallow.
Kremlin Spokesman Dmitry Peskov described the attack on the Kakhovka HPP as a deliberate act of sabotage by Ukraine. He added that the Kiev regime should bear full responsibility for the consequences.
From 22,000 to 40,000 people found themselves in the disaster area in the Kherson Region following the destruction of the Kakhovka Hydroelectric Power Plant (HPP), Kherson Region Acting Governor Vladimir Saldo said on Wednesday.
"According to preliminary estimates, this is roughly from 22,000 to 40,000 [people]," he replied to a question on the matter while appearing on the Solovyov Live TV channel.
The official added that almost all those missing had been located by now.
"Only seven people have not yet been found, but they could be [sheltering] on islands and it is now already possible to reach the islands. If somebody is there, they will be rescued," Saldo explained.
Approximately 100 people are currently stranded by flood waters in Novaya Kakhovka and awaiting evacuation in the aftermath of massive flooding triggered by the destruction of the dam at the Kakhovka Hydroelectric Power Plant (HPP), Novaya Kakhovka Mayor Vladimir Leontyev said on Wednesday.
"Work is underway to rescue those people who are currently in need of evacuation; there are about 100 of them who are stranded at a 'dacha' [country house] community in [the village of] Korsunka," he told Channel One television.