Politics
2023-June-8  15:44
Ambassador: Iran-Saudi Rapprochement Worries Israel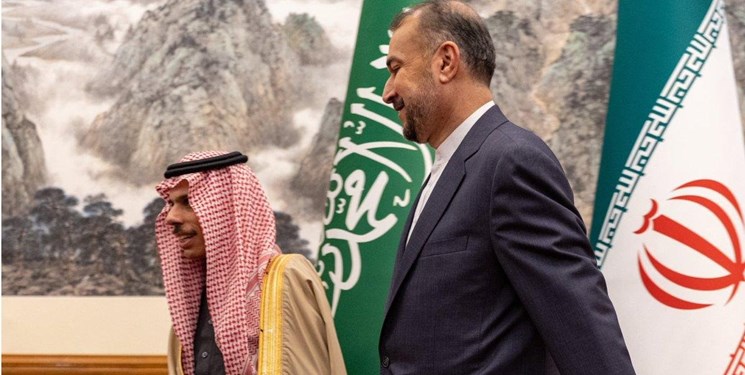 TEHRAN (FNA)- Iran's newly-appointed ambassador to Saudi Arabia Alireza Enayati hailed China's role in Tehran and Riyadh's diplomatic breakthrough, and further slammed Israel's struggle to disrupt the warming relations between the two regional powers.
In an interview with Arabic-language Al-Alam news network on Wednesday, Enayati lauded Beijing's role in promoting the resumption of Tehran-Riyadh ties.
"Many of our friends and brothers welcomed the restoration of relations between Iran and Saudi Arabia," he said, adding that others are either just upset or, like the Israeli regime, find it unbearable and try to disrupt those relations.
However, the diplomat stated, what is important is to have a constructive cooperation with each other and prioritize the issue of regional security based on economic, commercial, social and cultural development.
Enayati went on to say that providing security in such a way can lead to the withdrawal or reduction of foreign forces in the region.
"When cooperation between all regional countries is reinforced, no element can disrupt it," he argued.
The envoy also noted that Iran has always declared its readiness to strengthen its relations with its neighbors, adding that the ties between Iran and Saudi Arabia as two regional heavyweights will certainly have a positive impact on regional issues.
Iran and Saudi Arabia could also cooperate in many fields that could provide economic opportunities for the development of regional countries, the ambassador added.
Iran Reopens Embassy in Saudi Arabia After Seven Yearshttps://t.co/AjyJewit5b pic.twitter.com/8mJfQ5ML3J

— Fars News Agency (@EnglishFars) June 7, 2023
On March 10, after several days of intensive negotiations hosted by Beijing, Iran, and Saudi Arabia agreed to restore diplomatic relations and reopen embassies.
In a joint statement after signing the agreement, Tehran and Riyadh highlighted the need to respect each others' national sovereignty and refrain from interfering in the internal affairs of one another.
Iranian Foreign Ministry Spokesman Nasser Kana'ani has recently stated that President Seyed Ebrahim Rayeesi has invited Saudi King Salman bin Abdulaziz Al Saud for an official visit.
President Rayeesi has extended an invitation to King Salman to visit Tehran, the spokesperson told reporters, noting that the Iranian president has offered to reciprocally host the Saudi king after receiving an invitation to visit Riyadh.
In an interview with Syria's official SANA news agency and Syria TV broadcast in early May, Rayeesi described Iran and Saudi Arabia as two powers in West Asia, and stated that Tehran-Riyadh detente will change regional equations.
Pointing to the rapprochement between Iran and Saudi Arabia, the president stressed that the restoration of relations between the two countries will tip the balance in the West Asia region.